Aeron is an ambitious project that aims to bring air travel security to the blockchain.
2017-2018 Accomplishments
Launched in August 2017, Aeron has accomplished an impressive list of achievements during the past 15 months.
Highlights include launching the AeroTrips.com portal, launching pilot and company applications blockchain integration, implementing token payments for AeroTrips.com services, moving the database to decentralized (and encrypted) storage and much more.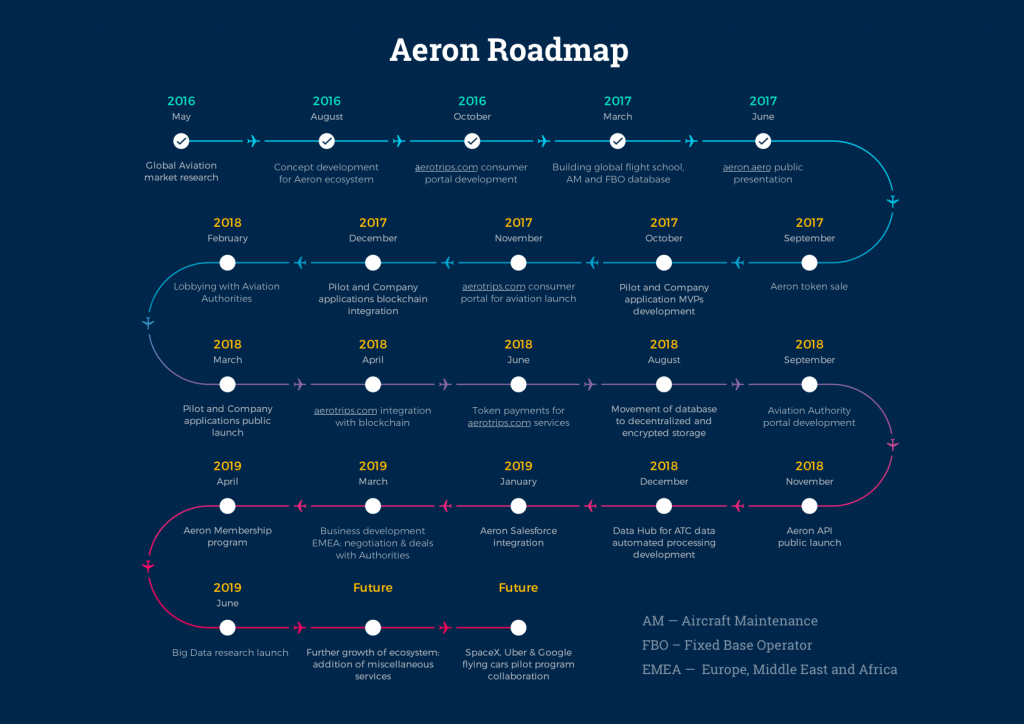 Aeron Operations
The Aeron system allows for many advanced airline security-related operations to be fully executed using the blockchain.
Aeron's blockchain application stands at the center of the air traffic control operations ecosystem.
This central component is called the Blockchain Trusted Data Repository and it's where the data is securely encrypted and stored. Pilots, authorities and airline companies then use a specially crafted application to connect to the central trusted data repository.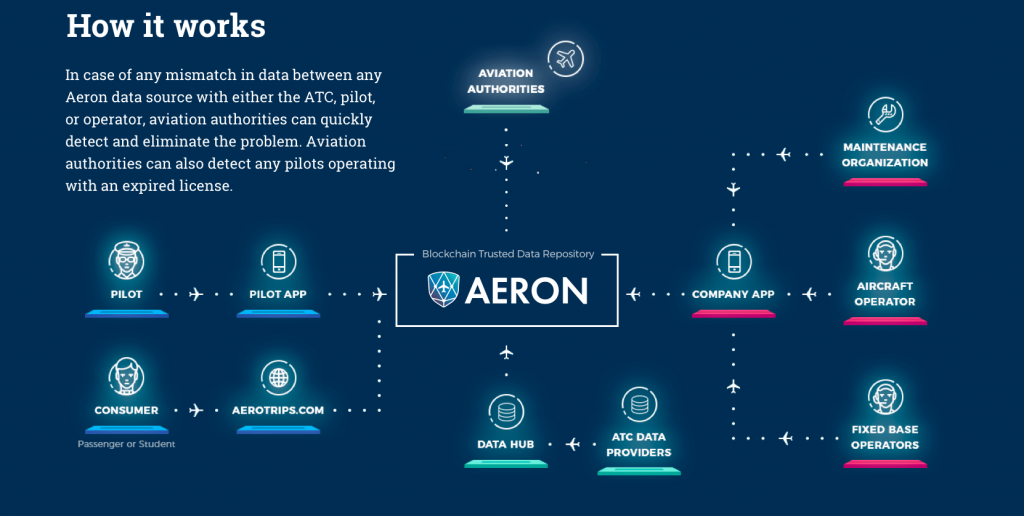 Several business rules are implemented following international air travel legislation.
For example, pilots are unable to use the system when they have expired licenses. This functionality is crucial for smaller aircraft deployed in distant regions where air traffic controllers don't always have the latest technology at their disposal.
With Aeron, this verification would be automatically executed via blockchain and the unlicensed pilot would be unable to fly.
Made by Aviation Professionals
Aeron was idealized by aviation professionals who have trained other professionals and developed aeronautical databases for 11 years.
Two of the project's leaders, Nadezhda Barkanova and Konstantin Gertman are pilots and traffic management engineers.
The Aeron project is very ambitious and even includes plans for the future space travel industry.
Airline Travel and the Blockchain
The blockchain fit in perfectly with air travel security requirements. A decentralized and cryptographically secure database that pilots, airlines and authorities can trust is the ultimate application for air traffic security.
Since the blockchain cannot be violated without leaving traces, a smart contract can be deployed to verify data input by pilots. Airlines and authorities can query this smart contract and check for any inconsistencies entered by pilots.
The Application
The main use case is very simple.
Pilots open an application using a mobile device. A new flight record is created where the pilot enters their origin and destination airports.
During flight, the application tracks the location of the aircraft in real time.
In the meantime, the flight data is recorded on the blockchain and may be verified by the airline and authorities using their own interfaces.
Customers can use the AeroTrips.com website to query for pilots nearby. Pilots with previous Aeron-validated flights are shown as trusted.
A booking can be made directly from this application, adding a flight request to the blockchain.
This works perfectly for business or leisure flights.
Other Services
Aeron also includes other services provided by their experts. An incubator is planned where aviation-related startups will be able to gain training and growth hack coaching to perform their best.
Aeron will also offer education solutions for aviation companies. Finally, aviation consultancy will also be available for vendors, manufacturers and airlines who wish to add blockchain solutions to their core aviation business.
Conclusion
Aeron is an exciting project which has achieved a lot in their first year of existence.
Although cryptocurrencies entered a bear market in 2018, projects such as Aeron show that the field is still rich with successful projects that promise to change the world using decentralized blockchain applications.
Links