2020 Update
This project seems to have been abandoned.
Its Telegram group is inactive.
The project's last tweet was published in April 2019.
We've moved this project to the Dead Coins section.
Original Post
Artificial Intelligence Video Open Network (AIVON) is a decentralized, open-source blockchain protocol and ecosystem built on a consensus network of Artificial Intelligence (AI) computing resources and a community of human experts, used to generate normalized and enhanced metadata for video content. Developers can build Decentralized Video Applications (DApps) on top of the AIVON protocol, the first of which will be the first decentralized Open Video Search Engine which AIVON will build. Platform participants can either run AI nodes or provide expertise and be rewarded with AVO Tokens.
AI Computer Vision (CV) algorithms running on nodes using CPU/GPU resources will be used to scan media files, generate enhanced metadata including time-coded tags, classification, categories, transcripts and translations, and an index of the video objects. Humans with expertise in tagging, editing, moderation, transcription and/or translation can participate in the AIVON shared economy to help with the verification, validation and/or creation of video metadata. AI Machine Learning (ML) algorithms will continually learn from the actions of the AIVON community to become better and smarter. AIVON will empower the community with tools to enable the community to moderate, review, verify the meta-tags, categorize, transcribe and/or translate content, as well as provide economic incentives to encourage this activity through AVO Tokens
One of the first DApps to be built on top of the AIVON protocol will be an Open Video Search Engine (OVSE) that will offer a transparent and ubiquitous index and search engine for online video curated and maintained by the community and governed by consensus through a Decentralized Authority Organization (DAO). As metacrawler bots are to Google, AIVON's AI Computer Vision engine will act as crawlers of video to generate rich video metadata that will then be indexed and searchable through the OVSE. With video representing 79% of all Internet traffic and growing and video becoming increasingly fragmented as more video sites go online, AIVON believes the need for OVSE will be in high demand as video becomes harder to find and discover. While YouTube is viewed as a video search engine, it is really a video hosting platform and one can only find videos that users upload to YouTube, which is mostly user-generated and long tail content. Most premium content publishers typically do not upload their premium video content to YouTube, preferring to upload to their own video site or app. Our current company iVideoSmart (IVS) already has a world-class platform for content streaming and delivery and innovative video advertising technologies. IVS has a global reach of over 500 million addressable users by end 2018 who will all be able to participate in the AIVON shared economy community giving AIVON instant scale plus mass usage of the AIVON utility token.
A key feature of this project is our trademark content safety index known as a ContentGraph. The AIVON platform will use AI to define a confidence score for each of several content safety attributes, such as: nudity, adult, offensive language, hate speech, violence, guns, alcohol, religion etc. Similar to MPAA ratings for movies but more granular and covering online video content, these scores will then be combined into an array of numbers called a ContentGraph, which will enable programmatic determination of content suitability based on some numeric-filter criteria. The content safety attributes are extensible and new attributes such as 'gender bias' can be added at any time the AI has capability to recognize such content.
AIVON will open this blockchain protocol and ecosystem for use by third-parties, including content distributors, publishers and advertisers. This will help AIVON achieve broad adoption and network effects benefiting all participants. The blockchain implementation will achieve this with smart contracts between the content owners, advertisers, distributors and service providers. The smart contracts will maximize utilization by enabling dispatch of jobs to the most productive service providers and grant incentives to promote better quality.
AIVON will be part of a larger content ecosystem consisting of content producers, advertisers and streaming media service providers. In the illustration below, we can see how our AIVON platform enables collaboration and cooperation.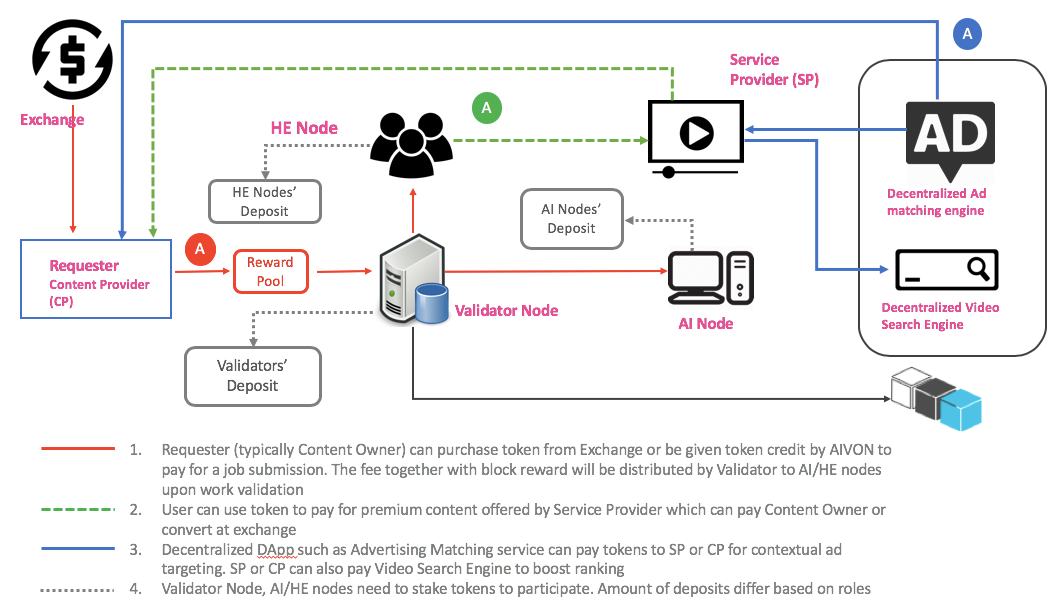 AVO Token
Incentivizing individuals who make available their computing resources for AI processing, or who apply their expertise to tagging, verification, transcription and translation is the primary purpose of the token. AIVON is preparing to launch a token sale in November 2018 to fund the development, operations and marketing of the AIVON protocol and ecosystem.
The adoption and use of the AVO Token will benefit from the existing user base of over 500 million addressable users globally that already use an IVS-powered online video platform.
Upon launch, IVS platform users will all be able to offer their computing resources or human expertise and be able to use AVO Tokens on IVS-powered platforms. The token (symbol: AVO) is a token developed using the Ethereum ERC20 token standard.
The token shall not and cannot be considered as shares or securities in any jurisdiction as they do not give any rights to dividends, interests, profits or to participate in the general meeting of the company. They will not be listed on any regulated stock exchange. The offering of AVO tokens on any trading platform is done in order to allow the use of AVO tokens as utility tokens on the platform and are not for speculative purposes.
The offering of AVO tokens on any trading platform does not change the legal nature of the AVO tokens, which remain as a simple means for the use of the platform and not security. Using AVO tokens to make purchases on the platform entitles users to concessions at the discretion of the AVO team, to encourage the use of tokens on the platform.
Initial number of AVO tokens: 400,000,000
Maximum number of AVO tokens: 1,000,000,000
Price: 6.25 AIVON to 1 USD
Contact