Update
This project has been abandoned.
Its social media profiles have been deactivated: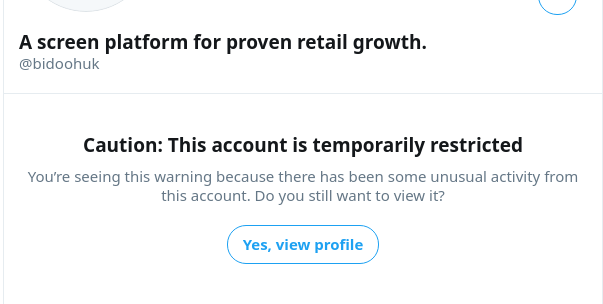 The project's Telegram group shows no activity and the website shows a under construction message: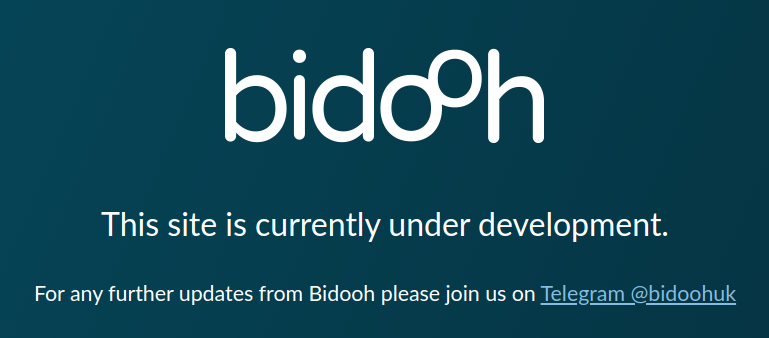 For these reasons, we've moved this project to the Dead Coins section. Please let us know if you feel this was done in error.
Original Text
Bidooh is the world's first facial recognition billboard on the blockchain. It delivers targeted advertising based on who they are and what they wear. Bidooh displays the right message to the right person at the right time, all controlled from an app in real-time.
Bidooh has developed its own intelligent and automated digital billboard advertising platform built in the cloud that will leverage blockchain technology to address each of these challenges and more.
Now, for the first time, advertisers, publishers and consumers can all benefit from a truly global and accessible digital advertising platform. We call it Decentralized Digital Billboards.
Developed, proven and already at minimum viable product (MVP) stage and live on bidooh.com, the Bidooh platform enables advertisers to buy, upload and manage their own digital advertising in 10 second increments on any Bidooh supported publisher billboard screen anywhere in the world.
Using either desktop and mobile devices, advertisers will be able to accomplish this process in minutes with the added benefit of selecting or reporting on key demographics including; age, gender, beard/moustache, sunglasses/glasses, number of visits, visit duration, brand recognition, colors, hair color, clothing color and type, value per visit, average dwell time, stores visited, group type, height, body shape, ethnicity and emotion.
Publishers can quickly take advantage of the Bidooh platform by installing Bidooh screens at their chosen locations. Where existing screens and infrastructure already exist, an easy to install, low-cost Bidooh box can be provisioned. Both solutions enable publishers immediate access to Bidooh's global community and reach.
DOOH Token
Introducing the Bidooh (DOOH) token: A single 10 second advertising space on a digital advertising screen.
Whilst traditional fiat payment methods can still be used, the Bidooh token allows the platform to operate more efficiently on a global scale. Advertisers, media agencies and new or existing screen-owners can join the network to create the world's first truly global network without borders under a single token.
Primary DOOH token uses will be:
1. Access: Buy advertising space in real-time
2. Reward: Get rewarded with tokens for vetting the quality of the adverts
3. Engagement: Tokens for seeing adverts and engaging with adverts (app users)
4. Spend: To spend tokens at selected retailers
5. Earn: Freelancers earn tokens for graphics/copywriting/translation work
The token is 28 times cheaper to buy during the ICO than to buy advertising space through normal channels (fiat). The cost of 2000 tokens is $1 USD and pays for $28 USD of advertising on our screens - which cost 1.4 cents for a 10-second advert.
Bidooh is an investment of and chaired by Michael Edelson, a director of Manchester United Football Club and VC responsible for over 20 companies on the stock market, two of which reached over $1bn.
Bidooh has a dedicated in-house team of experts and specialists spanning advertising, marketing, programming and blockchain. We have created a unique and revolutionary out-of-home advertising platform that satisfies the modern needs of both advertisers and publishers and brings this old medium fully into the always-on, global digital age.
The Bidooh ICO is comprised of the following token economics:
DOOH Token Usage
Here are some usage examples on using the DOOH tokens.
This enables us to create a complete ecosystem to help tokens flow through the system and bring benefits to all holders and users of it. These methods may change or enhance based on technological breakthroughs or limitations.
Buy digital billboard screen adverts
Each token buys 1 10-second advertising instance. Depending on the screen size and location the ad time could increase or decrease. For example, for smaller fuel station screens the advert may last 15 seconds and on larger outdoor billboards the ad may only be 6 seconds.
Earn tokens seeing ads
Consumers will be able to earn tokens when they see adverts on the digital screens in front of them. All they need to do is download and use the Bidooh Consumer App. This will reward them with tokens as they walk towards digital screens. If they tap the screen to see more about the advert, they will receive more tokens. Some adverts will also offer more tokens than others. Some may also choose to offer other kinds of gifts, prizes or vouchers for engaging with an advert. This will encourage consumers to interact with the adverts that attract them and get rewarded for their attention.
Redeem tokens
The tokens consumers collect from screens will be able to be spent at participating retailers and restaurants for part or full purchases at the discretion of the retailers. The greater the value the retailers offer the more likely token-holders will visit their store to redeem them, ultimately starting a buying relationship. The value to the retailers is that they then use these tokens to purchase more ads and rewards, thus capitalizing on the referrals and community sharing their offers and brand.
Freelancer token community
Many small advertisers will not possess the creativity or time to design their own adverts. To overcome this, we plan to integrate the ability to choose a graphic design freelancer inside the platform to design adverts in return for tokens. Advertisers can use their token balance to pay for design or copy-writing work and token holders will be able to join the freelance community within Bidooh to earn more tokens.
Crowdsourcing administrators
We propose to introduce a controlled trusted crowdsourced community to verify ads. Multiple parties verify ads which would then go live on the network. If a single party within a group 'un- approves' an advert, the advert will go forward to manual review. Each time a community member reviews an advert they will receive tokens for their service. The more accurate the reviewer, the more tasks they will receive and the more tokens they will earn. Trial piloting of this system will be undertaken to ensure that this method is both robust and tested thoroughly prior to going live.
Social media integration
The brand called 'you' is at the centre of any social media users world. We understand the importance of the consumer in our advertising ecosystem and therefore want to allow users the opportunity to push their influencer status. With permission from our app users, advertisers will be able to use their photos and imagery in their adverts. Imagine seeing your favourite photo across large digital screens, maybe a birthday message from your favorite brand, favorite band or even movie star. We want to make you the star of the show. A users' permission is granted from within the Bidooh Consumer App and can likewise be revoked at anytime. Each time as users' photo is used in ads, they earn tokens.
Brand Scan
A consumers' choice of clothing brand, style and color is important to them. The Bidooh platform will integrate with third party computer vision API's which will allow advertisers to instantaneously change their ads based on the brand, style or color of the clothing worn by a passing consumer. If, for example, the consumer is wearing a Nike top, the cameras will recognise that and the advertiser may choose to change their ad to show appreciation to the wearer "thank you for choosing Nike" or it may be a competitor advert who would like to target a particular brand or style. Whatever the scenario, the platform enables adverts to change in real-time. Every time consumers engage with such ads and allow it to scan their style profile, they will earn tokens. Our most resent tests show a 5 second delay for the processing of image recognition data which means not all screens will be able to utilise this method or targeting. It is anticipated that this speed-to-response will shorten as the platform scales and new advancements and improvements are implemented on more screens. Style profiles may be scanned off social media photos with the consumers' permission and on location using cameras.
Links