Discuss Hard Fork
Understanding Ethereum Constantinople: A Hard Fork - Blockgeeks

January 17, 2019 4:08 PM Discuss After months of testing and delay, Ethereum Constantinople is finally on its way. Expected to be executed by January end, the long-awaited Ethereum update is bringing with it a lot of changes. Constantinople is part 2 of the Metropolis update. We have covered Metropolis in detail before. So, in this guide let's put Constantinople under the microscope and see what all changes it is bringing into the ecosystem. Ethereum Constantinople is going to be a hard fork. With the whole ETH-ETC? and the Hash War saga, the term manages to conjure up a pretty negative picture. However, that is not necessarily the case all the time. So, before we even begin anything, let's educate you about forking and why they are essential.
Share this content on social media: See blockgeeks.com for more similar content.
Litecoin (LTC): Here's All About the Hard Fork | Oracle Times

January 08, 2019 7:34 PM Discuss Litecoin (LTC) The Hard Fork and its implications Litecoin is currently the fifth largest cryptocurrency by market capitalization today. Designed to be the equivalent of silver in the altcoin industry, interesting things have been happening with Litecoin (LTC) in the last few months. There were rumors of a hard fork of the cryptocurrency floating around in February this year. The Litecoin Cash Foundation announced that they would perform a hard fork of this cryptocurrency. The organization is not affiliated with Litecoin in any way. They simply want to create a new cryptocurrency. According to their announcement, the hard fork would occur at block 1371111 of the Litecoin blockchain. Moreover, they added that those holding Litecoin would receive 10 Litecoin Cash (LCC) for every LTC that they have. This had investors and traders scurrying to hold more of the altcoin and they drove up its price. In response, Charlie Lee tweeted that the announcement was simply a scam and was not going to occur. Well, on Sunday 18th February 2018, the hard fork actually happened with no technical glitches. Litecoin Cash debuted with a price of $1.40. Today, LCC is trading at $5.89. Traders and investors who had accumulated Litecoin enjoyed the instant benefit and are smiling at the growth. The industry is still accepting the new altcoin and according to speculators, the future looks bright. Here is why.
Share this content on social media: Visit oracletimes.com for more.
Ethereum Is Expected To Start 2019 With A Surge In Price Ahead Of The Constantinople Hard Fork  | Oracle Times

January 08, 2019 7:34 PM Discuss 2018 is about to end, and the crypto experts weigh in on the most important cryptos and their trajectory throughout the year these days. Ethereum is seen as heading towards a considerable spike at the end of the year as the Constantinople hard fork gets closer. Ethereum lost its spot to Ripples XRP regarding market cap, and now its developers are actively hoping that its hard fork which is scheduled for January will be making the transition from Proof of Work (PoW) to Proof of Stake (PoS) more effective and boost ETH's market value while entering 2019. According to experts in the crypto space, Etehereum seems to be lagging a bit in terms of developments, compared to its main competitors such as Ethereum Classic (ETC), Cardano (ADA), Lisk (LSK) and Quantum (QTUM). All these coins are showing more progress.
Share this content on social media: Check out oracletimes.com for additional posts.
Ethereum (ETH) Well Positioned To Rally Before Constantinople Hard Fork - Crypto Daily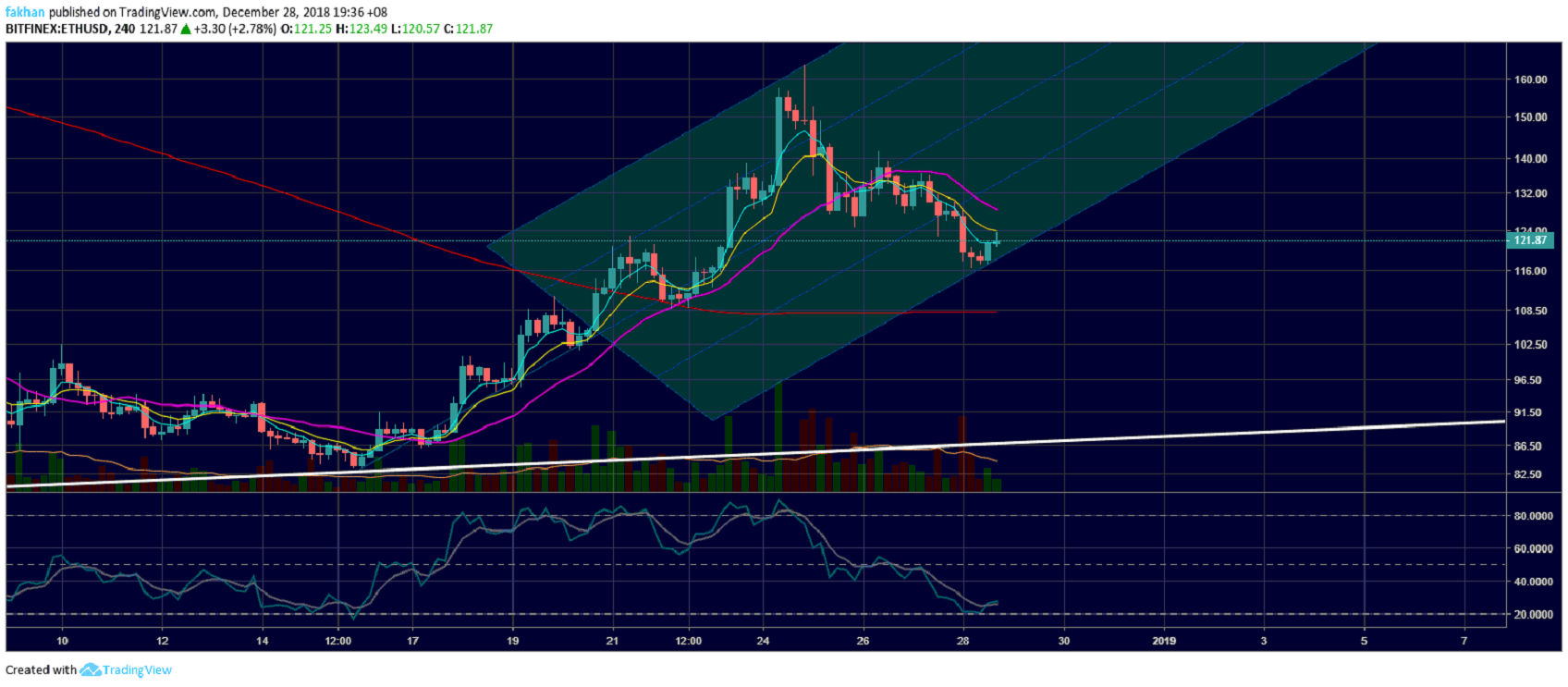 January 06, 2019 5:15 PM Discuss Ethereum (ETH) is well positioned for a rally just before its upcoming Constantinople hard fork. Word on the street is that this hard fork is expected to give a massive boost to the price of ETH/USD. It seems reasonable to expect this considering the purpose of this hard fork is to make the transition from Proof of Work (PoW) to Proof of Stake (PoS) more effective. Ethereum (ETH) has now lost its position as the second largest coin by market capitalization but we have reason to believe that it has lost a lot more than that. Things are not the same as they were at this point during the previous cycle. In fact, Ethereum (ETH) is no longer positioned to call itself the leader of altcoins or even platform coins. Many of Ethereum (ETH)s direct competitors like Ethereum Classic (ETC), Cardano (ADA), Lisk (LSK) and Quantum (QTUM) are way ahead of it in terms of progress made during the past few months. They have effectively gained in areas where Ethereum (ETH) has lost. This is why it is no surprise that Ethereum (ETH) ended up losing its spot to Ripple (XRP). The upcoming hard fork is expected to give a big boost to the price of Ethereum (ETH) because it is going to smoothen one of the most controversial transitions in blockchain history. The decision to go for Proof of Stake (PoS) was not an easy one but Vitalik Buterin believed that it was worth the risk. There are still many developers in the Ethereum (ETH) community who feel left out and betrayed over this transition.
Share this content on social media: Visit cryptodaily.co.uk for more from this source.
Ethereum's Constantinople Hardfork to be activated on Jan 16, 2019 - Blockmanity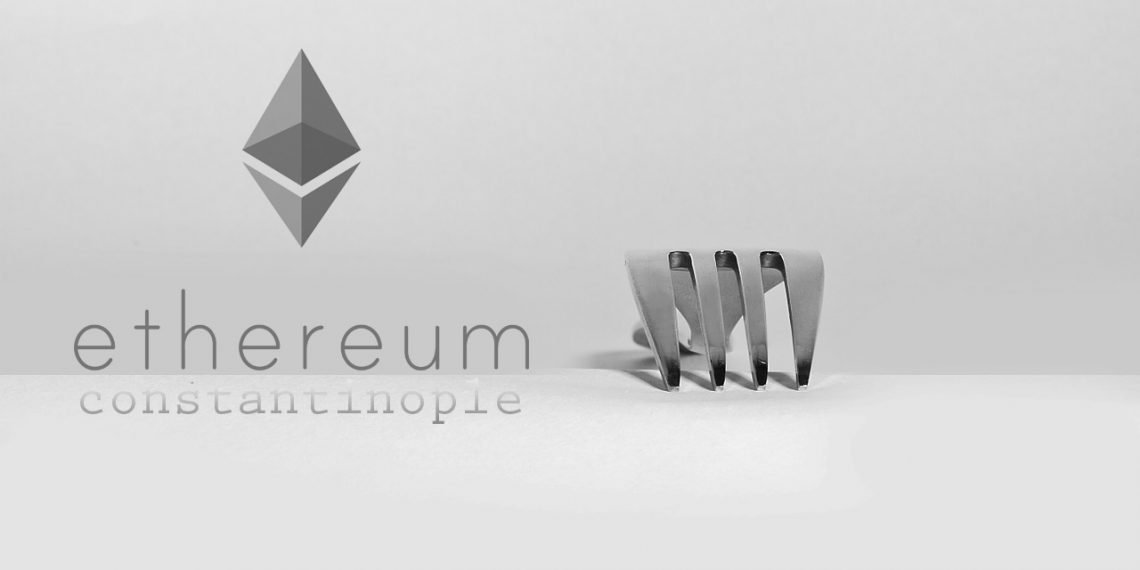 December 31, 2018 5:37 AM Discuss The much-awaited Ethereums Constantinople has a date. It's January 16th, 2019. The hardfork will take place at around 7 AM UTC. The date was announced by Ethereum developer Afri on Twitter. https://twitter.com/5chdn/status/1079095325325955073 The new hardfork would make Ethereum faster, and less expensive. According to developers the hardfork would usher in a new wave of distributed ledger technologies?.  The block in which that hardfork will take place is 7,080,000. Constantinople is a controversial hardfork. The hardfork would decrease miners rewards from 3 ETH to 2 ETH but also decrease the block time, making the network faster. Although scheduled to take place a while back, the developers could not come into a consensus with the miners.
Share this content on social media: Check out blockmanity.com for additional posts.
Bitcoin Cash Fork Whets Investor Appetites | Crypto Briefing

December 27, 2018 8:29 PM Discuss Crypto Briefing exists to advocate for the safe and responsible integration of blockchain and cryptocurrency into mainstream life. We believe. Our goal is to grow the crypto community - to help new converts understand the basics, and to share our research with experienced enthusiasts. Our ICO reviews are independent, unpaid, and unsponsored. Contact us: editor AT cryptobriefing.com. Crypto Briefing - ICO and Cryptocurrency Analysis, News, Features, Ratings and Reviews - Cryptocurrency News, Digital Asset Analysis, & Blockchain Updates What Is QuarkChain Network  Introduction to QKC Token What Is the Monacoin Project  Introduction to MONA Cryptocurrency
Share this content on social media: Browse cryptobriefing.com for more similar content.
Verge (XVG) Hard Forks After 51% Attack Nets Malicious Miner $1 Million | CryptoGlobe

December 27, 2018 6:17 PM Discuss A so-called 51 percent attack allowed malicious miners to rake in much as $1 million worth of Verge (XVG) before the cryptocurrencys developers managed to fix the bugs allowing the miners to attack. The solution was an accidental hard fork. Verge had been under attack for three hours when a post on the BitcoinTalk forum appeared. The post was published by Supernova mining pools admin OCminer. In it, OCminer reported the attack on Verge's blockchain, as he recognized the 51 percent attack. According to OCminer, the attack was possible because of bugs in Verge's code. He explained: Due to several bugs in the XVG code, you can exploit this feature by mining blocks with a spoofed timestamp. When you submit a mined block (as a malicious miner or pool) you simply set a false timestamp to this block one hour ago and XVG will then think the last block mined on that algo was one hour ago.
Share this content on social media: See www.cryptoglobe.com for more similar content.
Ethereum Hard Fork Explained - Cryptovest

December 23, 2018 3:44 PM Discuss A hard fork is one of the most unnerving events in the blockchain world. It is a case in which chain nodes lack consensus on which blocks are valid, and the chain splits its support, creating two separate blockchains. For further information on blockchain technology, refer to our guide (link What is Blockchain). The DAO hacking of 2016 revealed potential vulnerabilities in the creation of new blockchain projects. While the fault in the software had nothing to do with the Ethereum network, the price of the cryptocoin and its credibility suffered for a while. The Ethereum network went through one of the most prominent hard forks in the history of cryptocurrencies. The splitting of the blockchain happened after the hacking of the DAO project, a transaction system built on top of the Ethereum blockchain.
Share this content on social media: Check out cryptovest.com to find more similar content.
Drivechain for Bitcoin (BTC) to Replace Hard Forks with Sidechain Option - Cryptovest

December 23, 2018 3:08 PM Discuss The technology has been released in testnet after years of development, and may turn into a game-changer for the Bitcoin ecosystem. The Drivechain technology for Bitcoin (BTC) may be a game changer, as it would allow variations of the Bitcoin protocol to appear on sidechains. The technology, developed over a few years by Paul Sztorc, is seen as a potential replacement for hard forks. Drivechain is now only available on testnet. The main feature of Drivechain is the potential to create sidechains, which are then settled on the Bitcoin main chain. While other projects also allow sidechains, settling on the Bitcoin main chain offers the most valuable proof-of-work and may be preferred by new projects. There are already partial attempts to settle through Bitcoin, as in the case of Komodo (KMD) with its delayed proof-of-stake.
Share this content on social media: Check out cryptovest.com for more.
What is Hard Fork

December 23, 2018 12:56 PM Discuss For updates and exclusive offers, enter your e-mail below. Before we start speaking about soft, hard and other strange-used words, I'd like to give a short explanation of each term. Just to make sure we are on the same page.   Now, let's talk about each one in a more detailed way. The first question we need to answer before talking about forks or any other cutlery is: Why do we need to update the protocol As I mentioned before, it's a protocol change, but with backward compatibility. I'll take traffic rules as an example (it is actually pretty similar). Say, the US had a rule, where minimum highway speed should be 30 miles and maximum 60 miles. One day, the government decides that, from now on, it will be a minimum of 40 and a maximum of 70. What will happen For most of the drivers, who drive with an average speed of 55 miles - nothing will change. They are still eligible to drive and are not violating the new low. But if you were driving 30 miles - you have to speed up.
Share this content on social media: Visit cointelegraph.com to find more similar content.
Craig Wrights Bitcoin Cash Fork Can Hit $1 Million: Reddits Fmr

November 27, 2018 3:45 AM Discuss According to former Reddit crypto lead-turned-entrepreneur Ryan X. Charles, there are only a couple options for the future of Bitcoin, specifically Bitcoin Cash-spinoff Bitcoin SV  it goes to astronomical highs, or it goes to zero. To illustrate his point, published the following tweet on Friday. It seems he has decided that of the two networks that came out of the BCH hard fork, he's on the side of Bitcoin SV (BSV). 2. BSV goes to one million USD per coin and all other cryptos go to zero. Only BSV has economics that work long-term. But even BSV will fail without massive growth. Adoption trumps everything. https://t.co/6Yl6J1YaKJ
Share this content on social media: Visit www.ccn.com to find more similar content.
Hodler's Digest, Nov

November 25, 2018 10:08 PM Discuss KPMG releases a report that remains bullish on cryptocurrencies, while Bakkt announces a target launch date for the end of January. KPMG is bullish on crypto, Bitcoin falls towards $4,000 read more in this week's Hodler's Digest Coming every Sunday, the Hodler's Digest will help you to track every single important news story that happened this week. The best (and worst) quotes, adoption and regulation highlights, leading coins, predictions, and much more a week on Cointelegraph in one link. KPMG Report Notes That Crypto Is a Big Deal, But Needs Institutional Investment Netherlands-based Big Four auditor KPMG released a bullish report on crypto this week, arguing that institutional investors must join the industry for it to realize its potential. The report, titled the Institutionalization of Cryptoassets, explains how insitututional investors can enter the crypto sphere, alongside the current challenges that the industry faces. The report also elaborates under what circumstances crypto could become a full-fledged asset class.
Share this content on social media: Check out cointelegraph.com for more from this source.
ABC Wins Race to BCH Ticker (At Least on Huobi) - Bitcoinist

November 18, 2018 4:45 PM Discuss Reading: ABC Wins Race to BCH Ticker (At Least on Huobi) Bitcoinist | Nov 18, 2018 | 14:45 Bitcoinist | Nov 18, 2018 | 14:45 Over the past week, all eyes have been on the Bitcoin Cash (BCH) hardfork and the hash war between competing factions ABC and SV. Now, ABC has won the war on one major trading platform. According to an official tweet from Huobi Global, the ABC version of Bitcoin Cash has won the race for the prized title on its trading platform. Bitcoin ABC will be re-designated BCH, with the following official statement: Huobi Global has confirmed that the team behind the AB version of Bitcoin Cash (BCH) has set up a checkpoint that allows us to ensure that two-way replay protection is in place. BCH ABC, the longer chain, will be retained for the designation of BCH. And, we will be designating the SV version of BCH as BSV.
Share this content on social media: Check out bitcoinist.com for complete listings from this source.
[News] Upcoming Hard Fork Will Be Supported by Coinbase and Binance

November 06, 2018 2:12 PM Discuss For the first time in months, the price of Bitcoin Cash (BCH) has seen significant upwards price movement from $425 to a current high of $586. This signals a price movement of over 25% however, at the time of writing, the price has receded to $545. Overall though, this recent upwards movement is holding strong and can be attributed to the upcoming BCH fork. Here's why. BCH's recent rise in price largely be attributed to the Bitcoin Cash hard fork set to occur on November 15. The BCH hard fork will result in 2 independent BCH blockchains, and therefore 2 different BCH coins. This has led cryptocurrency traders and investors to buy BCH before the fork date so that they can benefit from the additional coins they'll receive after the fork.
Share this content on social media: See www.investinblockchain.com for more from this source.
Ethereum [ETH]'s hard fork Constantinople to hit the testnet soon, says a member - AMBCrypto

September 15, 2018 7:30 AM Discuss Bitcoin [BTC] Futures Contracts get a green signal from the regulatory authorities Bitfinex announces margin trading for Tether [USDT] with USD pair SEC has lost its first legal battle in its unlawful quest against cryptocurrencies, says John McAfee XRP/USD Technical Analysis: Red clouds hover over investor sentiment Ethereum [ETH/USD] Technical Analysis: Bull continues to support the cryptocurrency SEC has lost its first legal battle in its unlawful quest against cryptocurrencies, says John McAfee Bitcoin [BTC] proponent Mike Novogratz: I don't think we're going to decentralize the whole world Bitcoin [BTC]s price is very critical for its mining, security and infrastructure, says Bitcoin proponent
Share this content on social media: Check out ambcrypto.com to find more similar content.
Aggregated news and features about hard fork Titles, images and descriptions not entered by Crypto.BI are Copyright(C) their original authors, all rights reserved.
---