Update
The current Gese website seems to be unrelated to the project described in this announcement.
The original Gese Twitter account is also no longer active: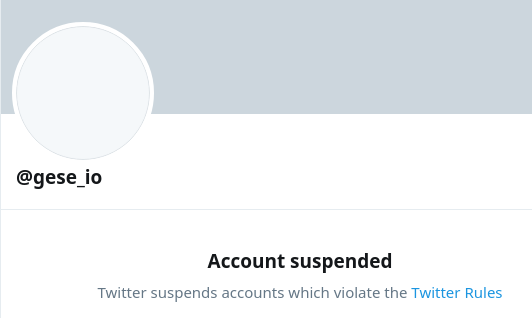 There seems to be controversy on the project's Telegram group as to whether this ICO is still active or not. We believe the latter to be the case.
For these reasons, we've moved this project to the Dead Coins section. Please let us know if you feel this was done in error.
Original Text
Gese is a project created specifically for the liquor market. It contains information about the  manufactured products and serves as a platform for alcohol manufacturers to deliver NFC technology to their customers. Maintenance of the system requires the blockchain technology possessing two key properties:
high bandwidth and scalability;
the ability to work with smart contracts.
In the basis of the Gese platform lays the original blockchain, operating with the help of the consensus mechanism Proof-of-authority (PoA). This mechanism has proven itself within the Graphene platform, which is also used to create such large communities as Steemit.
In fact, PoA is a modified mechanism of consensus Proof of Stake (POS), in which the role of the miners that ensure the security and availability of the network is performed by validators. This principle of operation allows the creation of new blocks in the circuit for short periods of time.
At the moment, the average generation time of the block is 5 seconds.
As a result of platform analysis, we developed a borderline solution that adopted the best economy and the speed features of POS blockchains as well as the Ethereum platform's smart contracts along with its ERC standard.
The product developed by us combines advantages of these two blockchains to deliver the best solutions for set tasks:
from the POA architecture our platform inherited speed and logic allowing it to carry
out a comparable number of transactions, limited only by the equipment's technical characteristics, not by the software platform itself;
from Ethereum our platform adopted the security of financial transactions and deals, ensured thanks to smart contracts.
GESE GSE Token
Supply: 100 million GSE
Token Sale: 50 million GSE
Hard Cap U$ 15 million
Soft Cap U$ 1 million
All tokens in the system are redeemable. Taking into account the fact that all payments in the system are made by the internal GSE token, the growth in turnover of the company will increase the demand for the token and, accordingly, its price.
GSE Token Allocation
PRIVATE SALE
Tokens to be sold during the Private Sale : Phase 50 000 000 GSE
RESERVE
We reserve 25% of all tokens for future sale : at the market price 25 000 000 GSE
TEAM
Tokens are to be distributed between the team members. Tokens are locked-up 6 months after the date of the exchange listing. = 10 000 000 GSE
MARKETING
Tokens will be used to pay for marketing and promotion services. = 7 000 000 GSE
ADVISORS
5% of all tokens are to be granted to advisors of the project. Maximum 1% of tokens to each advisor. 5 000 000 GSE
AIRDROPS + BOUNTY
3 000 000 GSE
Contacts