GIFTO is an ERC20 token which was created to enable gift exchanges via social media platforms like Reddit, Facebook, Twitter and others.
The project was created by Andy Tian, the CEO of Asia Innovations Group and received funding from Wicklow Capital and venture capital firm Kleiner Perkins Caufield & Byers (KPCB).
GIFTO users can currently send gifts via a Telegram bot :

Is GIFTO Scam or Legit?
Despite being actively traded, Gifto social channels seem partially abandoned at the time of this writing.
The Telegram group seems to be just bots and the last official tweet was published 7 months ago: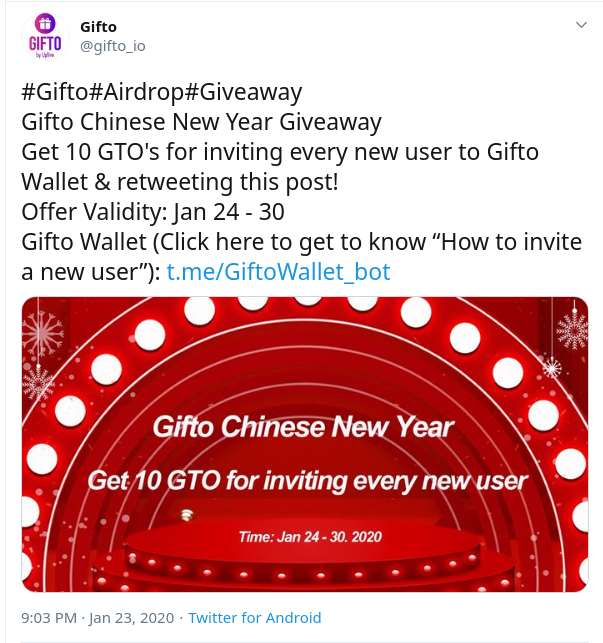 Has the GIFTO project been abandoned?
While we have no reason to believe GIFTO is a scam, the project does seem to have been abandoned.
GIFTO founder Andy Tian also last posted on Twitter 7 months ago, around the same time GIFTO tweeted its last message: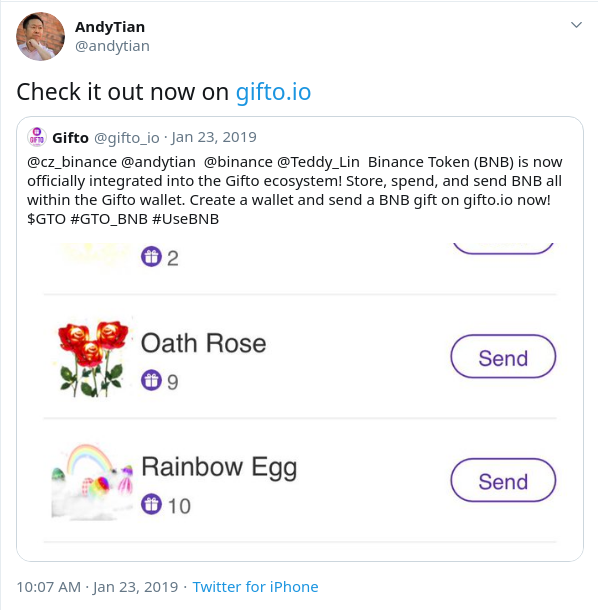 The present status of the GIFTO project is unclear. We recommend investors proceed with caution, although nothing specifically points at foul play at the time of this writing.
In 2018 some social media accounts going by the name of GIFTOTech tried to scam users. This operation had no relation to the official GIFTO project. GIFTOTech was the subject of a GIFTO tweet in 2018.
Recent GIFTO Transactions
Despite the low activity in GIFTO social media channels, its token is still actively being traded. Etherscan shows normal token activity at the time of this writing.

GIFTO [GTO] Monetary Policy
GIFTO is uncapped, meaning there is no preset maximum coin supply.
There are currently 1 billion GTO tokens in existence, being actively traded at OKEx, Binance, Upbit, among others.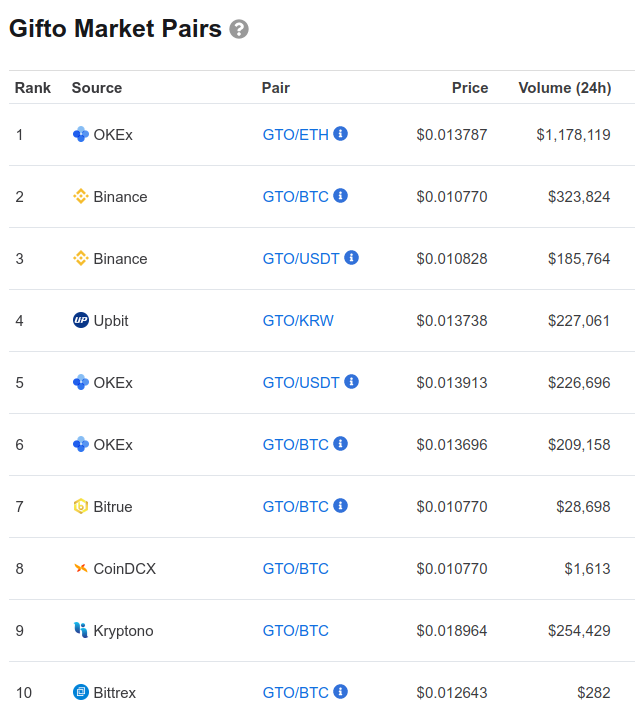 At the time of this writing there were 712 million GTO tokens in active circulation with an average volume of U$ 2 million daily.
Introductory Video
Links