Update
This project seems to have been abandoned.
iMusify's twitter hasn't been updated in a year. Furthermore the Telegram group shows no activity. Furthermore, we were unable to find any on-chain token activity for the project.
For these reasons, we've moved this project to the Dead Coins section. Please let us know if you feel this was done in error.
Original Text
The imusify platform integrates the best practices of streaming, media sharing, crowdfunding, and social networks to create an ecosystem in which the artists, fans, and music professionals can interact with one another on a decentralized marketplace.
The underlying technology allows for tracking of the flow of content, and the smart contracts ensure a fair and immediate distribution of payouts.
The content is reviewed automatically to determine copyright ownership, and digital identity tracking is used to prevent fraud. Users have various potential streams of income, creating a marketplace for digital content, goods, and services, with secured and instantaneous transactions.
Technical Details
The imusify platform builds on the solutions provided within NEO Smart Economy and implements several proprietary solutions to address the problems of scalability and security, hampering other distributed applications.
These solutions allow the imusify platform to
(i) surpass the scalability limitations by reducing the volume and number of transactions, required to be validated on the main chain;
(ii) implementing digital identity and automated content screening solutions to prevent fraud and copyright infringement; and
(iii) allowing each user to generate revenue by content production, ownership or curation, depending on their role in the economy.
The imusify platform introduces several proprietary technological solutions, addressing the scalability issue, copyright infringements and fraud, and allowing every user to get paid as an active participant in the music economy if they wish to do so.
Token Distribution
The total supply of 1,000,000,000 θ IMU tokens will be distributed in an effort to maintain the long-term value of the imusify platform and network while taking into consideration the basic economic factors that can affect the viability of a utility token.
Token Economics
The nominal value of IMU(θ) tokens will be set by imusify. They will be sold in the imusify Token Sale at a discount. The imusify platform will allow users to exchange IMU(θ) Tokens for other cryptographic tokens and cryptocurrencies, as well as fiat money, by integrating third-party services (e.g., Switcheo and B2Broker).
Such possibilities bring about the question of the value of IMU on the secondary market. One of the critical features of the imusify platform is its function of the closed-loop digital currency on the platform. The relative stability of the IMU(θ) Token value may thus be a factor for the fair distribution of compensation between the users, contributing to the growth of the community.
Token Sale Info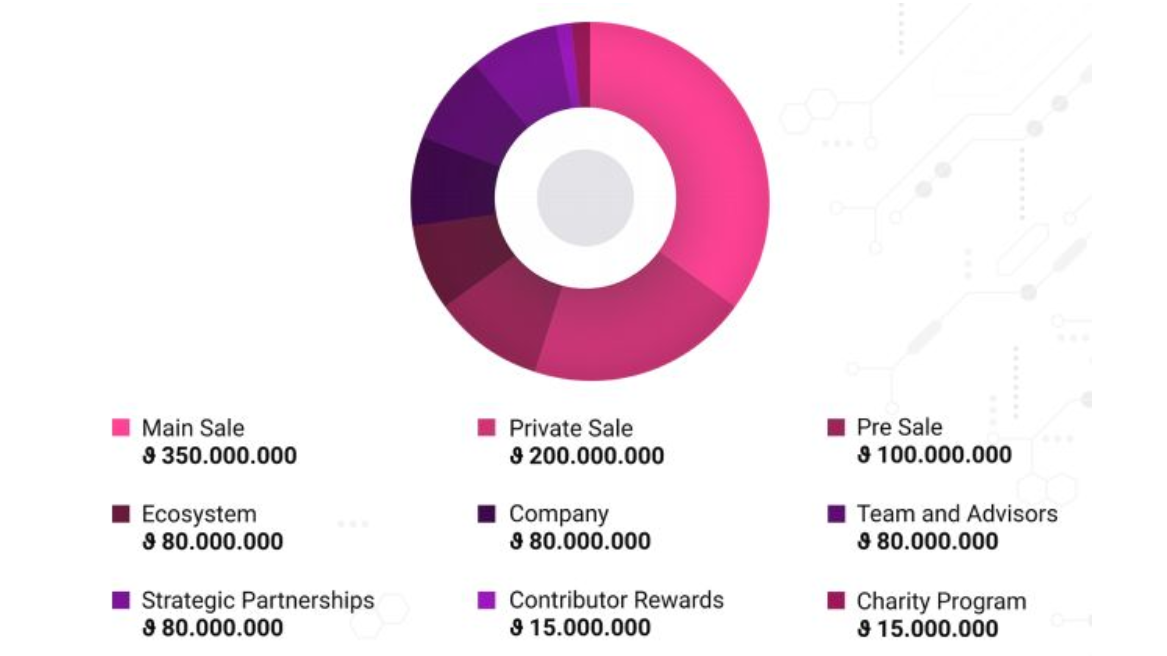 A portion of IMU(θ) tokens will be sold in imusify Token Sale, organized by IMUSIFY OÜ.
Institutional token buyers, and individuals who meet applicable conditions and thresholds to qualify as accredited/experienced participants will be invited to participate in the Private Sale in which imusify is aiming to collect up to $5,000,000 of seed capital.
Remaining IMU(θ) Tokens will be sold to the public at the later stages of the imusify Token Sale, under the terms and conditions published on the imusify website.
The IMU(θ) tokens will be sold with significant discounts during the token sale. After the imusify Token Sale, users will be able to purchase and exchange tokens on various exchanges. At this point, imusify has confirmed partnerships with O3 – mobile wallet and exchange, and Switcheo – a decentralized exchange.
For the purposes of participating in the imusify Token Sale, any token buyer will need to undergo a know-your-customer procedure as required by applicable KYC/AML laws and regulations.
Participants from certain restricted jurisdictions (in particular United States of America, Canada, Republic of Korea and Singapore, as specified in more detail in Terms of imusify Token Sale as published on our website www.imusify.com) will not be eligible to participate in the Token Sale. The Whitelisting process is already opened.
You can register to participate in the imusify Token Sale at tokensale.imusify.com.
Maximum IMU supply: 1.000.000.000
IMU For sale: 650.000.000
IMU Price: 0.05 USD
Currencies accepted: USD, EUR, NEO, Bitcoin (BTC,) Ether (ETH), Litecoin (LTC), Dash (DASH), Bitcoin Cash (BCH), Tether (USDT), Monero (XMR), Ripple (XRP), OmiseGo (OMG)
PHASES OF imusify TOKEN SALE
The imusify Token Sale is split into three phases, as explained in more detail below.
PHASE I – PRIVATE SALE
In the Private Sale, the 200,000,000 IMU Tokens are offered to institutional contributors, and individuals who meet applicable conditions and thresholds to qualify as accredited/experienced participants at 40% discount, or special – individually negotiated conditions. The Private Sale is already in progress.
PHASE II – PUBLIC PRE-SALE
Upon conclusion of the Private Sale, a limited amount of 100,000,000 IMU Tokens will be offered to the general public, alongside with any tokens that were not sold in the Private Sale at 30% discount.
PHASE III – PUBLIC SALE
The Public Pre-Sale will be followed by the Public Sale, where the designated amount of 350,000,000 IMU Tokens, alongside with any previously unsold tokens, will be offered to the general public, at various discounts, outlined below.
OBTAINING AFTER THE imusify TOKEN SALE AND OTHER OFFERS
We have reserved a portion of IMU tokens for various special offers, such as the imusify Bounty Program, and Airdrop Campaign [LINK].
Any tokens that remain unsold in the imusify Token Sale, plus the 80,000,000 tokens reserved for the company will be sold without discount at a price set by imusify to the users. You will also be able to purchase and exchange the IMU tokens on a number of crypto exchanges.
Note, however, that we do not control the price of the IMU on such exchanges, and volatility may occur.
The IMU is not meant as an investment vehicle, and we strongly discourage any speculation.
Additional Info
IMUSIFY OÜ
Viru Väljak 2, 3rd floor
Tallinn
Republic of Estonia
EE-10111
Represented by David Walters (CEO).