Seven score and three years ago Kraken launched in Japan. And just two days ago Japanese authorities shut down Kraken's JPY accounts.
What happened?
Tether happened.
Here is a screenshot posted by Dog Bunny on Reddit: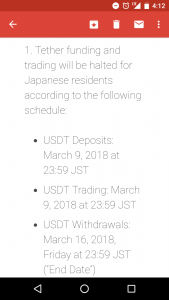 Some experts had warned Kraken before. Perhaps if they'd listened, they'd be saying arigato instead of sayonara.
Japanese banks close Krakens account.
Kraken disables Tether for Japanese citizens.

Maybe they would not have lost their bank if they took my advice and disabled Tether.

Eventually allowing Tether to engage in illegal wash trading catches up to you.

— Bitfinex'ed 🔥 (@Bitfinexed) March 2, 2018
Posted under Humor since we couldn't place it anywhere else.
Seriously, by all indications, Tether is a crash waiting to happen.
2020 Update
Tether hasn't crashed.
Links
Biggest Winner in Crypto Crash Is Most Controversial Coin
Binance, Bitfinex and Tether: What's the Worst That Can Happen?
Why Tether's Collapse Would Be Bad for Cryptocurrencies