Earn TRX With TRONGoo
TRONGoo is the recent announcement from TRON Arcade which is a revival on the popular Ethereum game, EtherGoo. The TRON network is soon getting an additional dApp. The aim for players in the game is to collect as much Goo as they possibly can by either producing it themselves or by stealing it from other players. The game rewards players who have the most Goo with TRX. this means the more Goo you gather, the more TRX you will be rewarded with. For a little backstory, EtherGoo was the original competitive idle game which utilised the power of the blockchain. After the launch of the dApp, it didn?t take long to surpass CryptoKitties as the number one decentralised application for daily active users and total transaction volume. The team behind EtherGoo is led by MrBlobby and the TRON Shrimp team is led by Mr Fahrenheit which are both highly successful dApp developers (despite the names). This piece was retrieved by us on January 08, 2019 5:09 PM. Check out cryptodaily.co.uk for more similar content.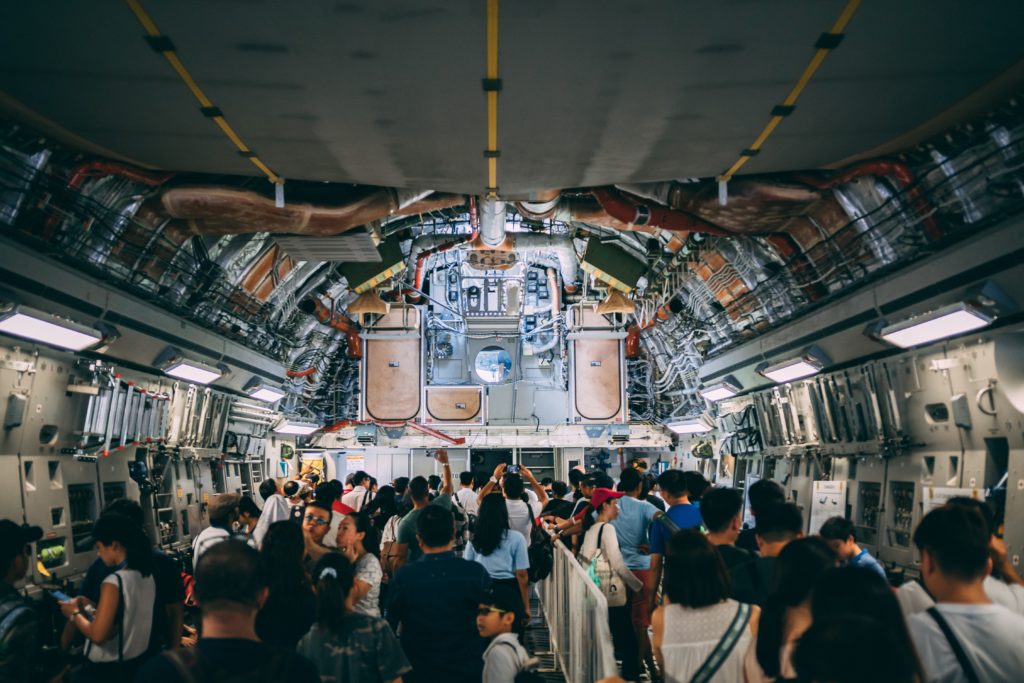 TRON Technology Sways A Large Number of Developers - Crypto Block Wire
As TRON technology continues to make progress, a number of developers continue to delve into it. TRON?s dApp weekly report in the period between Nov. 17th to Nov. 23rd shows that TRON Network sees growing participation from more teams. However, there?s no surge in the number of dApps listed on the DApp House. TRON also says that nearly 20 dApps are running on its mainnet via other channels. Over last week, there?s a surge of 15 percent in the transaction volumes contributed by dApps on the TRON network. Post 640,000, the account number of surged past EOS? with daily transaction volume growing steadily to 1.5 million. This posting was first found by us on January 08, 2019 4:57 PM. You may want to visit cryptoblockwire.com for more from this source.
Daily Market Recap - 01/08 - TRON Leads the Top 10 As Crypto Market Struggles To Maintain Yesterdays Gain
The crypto markets have begun correcting after yesterdays surge that was led by Bitcoin. The crypto board is back to the reds and most coins on the green have barely registered good gains. The total market capitalization is starting to show declines as it dropped to $135.7 Billion from yesterday?s $136.6 Billion. The trading volume is also sliding and is now down to $14.7 Billion. Still, despite current declines, BTC Dominance is continuing to climb up and is now at 51.9%. Bitcoin is in a range bound channel. Though it is down by -0.40%, it is still protected above $3900. It is foreseen that this level would last a while until the bulls are able to successfully cross $4100 without being rejected. It appears to be holding now with the current trading price at $3969. However, the former resistance at $3,900 will be the dividing line as it now becomes support. Since last Tuesday BTC is still up 7%. This posting was first seen by us on January 08, 2019 4:21 PM. Browse dna.coinve.st for more similar content.
Tron Foundation Burns 4.9 Billion ERC20 Tokens
The Tron Foundation burnt over four billion ERC20 Tron tokens on Thursday. This is the fifth batch of old tokens burnt by the Foundation. As the Tron mainnet is working smoothly across the world, Tron Foundation has burnt yet another set of tokens to facilitate its transition from the Ethereum blockchain. On Thursday, Sept. 13, the Foundation burnt 4,917,487,036.059613 TRX. These were the old ERC20 tokens used by the blockchain before shifting to its mainnet. The burn is essential to avoid confusion and help all Tronics move smoothly to the mainnet and utilize the unique Tron blockchain assets. This piece was found by us on January 08, 2019 4:15 PM. Check out blokt.com to find more similar content.
Tron [TRX] Price Remains Above Lows Amid Market Crash
Tron [TRX] technical analysis on 7th September 2018. Tron forms higher highs and higher lows even with the rest of the market crashing. We examine whether Tron price has bottomed out for this year. With many coins approaching their 2018 lows amid this most recent crash, Tron has remained above its important support levels and formed higher highs and higher lows. Some weeks ago Tron hit its lows for the year near $0.016 but has remained above important support of $0.02 in light of this recent crash. Price and RSI have actually been forming higher highs and higher lows showing that price may have bottomed out for the year. The price underwent a stiff correction this year as investors reevaluated the value of the project after its mainnet launch. In times of speculative euphoria, the price reached highs near $0.35. If price experiences another upturn, the 50EMA has been acting as an important resistance point. This post was found by us on January 08, 2019 4:13 PM. Browse blokt.com for additional posts.
Second Consecutive Drop for Tron [TRX] As Its Price Breaks Below Support | Cryptocurrency News | Blockchain News | Bitcoin News | blokt.com
Tron [TRX] technical analysis on July 31, 2018. Second consecutive daily drop for Tron as it breaks below key support levels. Likely to keep dropping if we continue to see losses across the market. Tron is having its second consecutive large drop today which is in line with the overall cryptocurrency market experiencing large losses across the board. Many cryptos have been recording losses in the double digits over the past 24 hours. Today?s drop in Tron has been on lower volume than yesterday?s showing that the drop might not have much momentum behind it and could just be moving in sync with the overall market. This item was first found by us on January 08, 2019 4:06 PM. Browse blokt.com for more.
A New BitTorrent Cryptocurrency to be Launched over Tron s Network
BitTorrent, the prevalent P2P  file-sharing platform, which is also the world?s largest decentralized network, is about to create a new cryptocurrency of its own using Tron?s network. The new token will get used by the users to pay for higher download speeds using the company?s uTorrent client, which runs on the Windows operating system. Rogelio Choy, who used to be BitTorrent?s CEO, decided to leave the company behind. This happens about half a year after Tron?s CEO and founder, Justin Sun, bought the firm. That move started rumors around the technology world that Mr. Choy was not very happy about BitTorrent?s new priority to become a blockchain network. This article was first seen by us on January 08, 2019 4:02 PM. Have a look at www.tronweekly.com to find more similar content.
New Policies For Tron TRC10 Token Naming
Tron?s super representatives are hard at work as we write this article. Last Friday, they reviewed the ?Allow same token name? proposal and a decision will be announced sometime soon. This could seem like a cosmetic initiative, but it will have real effects on the Tron community?s sector that is using or issuing TRC10 tokens (TronWatchMarket, TWX, SEED, IGG, although IGG is migrating its token to TRC20 technology as we write this). If the initiative is approved, new TRC10 will be allowed to use the same token names as currently existing tokens. Why should anybody want to have a token name that could lend itself to confusion so easily is anybody?s guess, just don?t ask us what?s the point in that? This item was discovered by us on January 08, 2019 4:01 PM. Visit www.tronweekly.com for more from this source.
Bitcoin [BTC] Price Holds Strong at Support
Bitcoin [BTC] technical analysis for 13th December 2018. Bitcoin performs more bullish as it meets support. We analyze the recent price action to assess whether it can continue its recent performance. Bitcoin has held support around $3300 for the last week, a strong sign that the bearish conditions being seen over the past month may be losing their momentum. Bitcoin did drop below the $3300 support level but rose back above on each occasion, failing to close below it. If the price does drop and close below $3300 support, the next significant support level is anticipated to be $3000. $3000 is both a key psychological area and an area of significant trading activity in 2017 as seen in the weekly chart above. This article was first seen by us on January 08, 2019 3:55 PM. Check out blokt.com to find more similar content.
Tron [TRX] Price Prediction - After Reaching Resistance, What Will Happen Next
Tron (TRX) price prediction and analysis on January 5, 2019. We take a look at the long, medium, and short-term outlook for the price of TRX using technical analysis to predict where price could go from here. A look at the 3-day chart for TRX shows that price has moved past the 7 and 21 period moving averages and is currently in the area of resistance formed by the highs of August and October 2018. Price is also facing resistance from the cloud. While price break resistance or will it retrace? Let?s find out. A look at the daily chart gives conflicting information. Price is facing resistance from the 200-period MA, which coincides with the resistance area outlined in the 3-day chart. This article was first seen by us on January 08, 2019 3:54 PM. Have a look at blokt.com for more from this source.
Blockchain Cuties reveal their first TRON Tribute Cutie
Tribute Cuties on TRON? What even are Tribute Cuties anyway? Just before the final stretch of the year, Blockchain Cuties announced that they were integrating TRON blockchain. The game finally launched on TRON on December 28th, and it only took the TRON playerbase 10 days to crack the code and discover how to breed their first Tribute Cutie?Umka. Okay, but first thing's first. What the hell is a ?Tribute? Cutie? Don?t be alarmed, no crypto animal is going to be sacrificed anytime soon. Tribute Cuties, as the devs themselves call them, are ?special cuties that represent pop-culture characters. There are more than 30 types of them hidden in the game?. Chances are you?ve already seen promotional images online of Cuties that depict pop-culture icons such as Marvel superheroes, Dark Souls characters and even popular football players, so it is very likely that you are already familiar with Tribute Cuties. This data was first found by us on January 08, 2019 3:16 PM. You may want to visit gameunculus.io for additional posts.
TRON (TRX) is going crazy.
This share was first seen by us on January 08, 2019 3:14 PM. Have a look at bitcointalk.org for more from this source.
AMD RX 560 515 h/s for Cryptonight (Monero, Electroneum..) @ 40 watt on the wall
This entry was first found by us on January 08, 2019 3:06 PM. See bitcointalk.org for more from this source.
[LAUNCHED][POW] ELECTRONEUM Official Moderated Thread
This posting was retrieved by us on January 08, 2019 3:04 PM. You may want to visit bitcointalk.org for additional posts.
TRON (TRX) Aims To Bring Back The Internet To The People And Ensure User Data Privacy
In an age where user data is subjugated, manipulated and compromised in numerous ways from several centralized social media platforms and the modern age internet, the application of blockchain and its decentralized feature of operation has become ever more imperative. To that notion, one of the largest blockchain-based operating systems in the world, Tron, aims to find solutions to the persistent problem of the ?damaged internet?. The basic vision behind the creation and operation of Tron is to provide a decentralized version of the internet. The idea was shared by Dave, who is the Community Manager for the Super Representative Tron Society. He was speaking to BlockPublisher, where he reported that Tron aims to bring the internet back to the people and provide 100% ownership of data to the user. He said: This piece was obtained by us on January 08, 2019 1:47 PM. Visit blockpublisher.com to find more similar content.
Tron Climbs The Market Cap Chart as Stellar Retakes Sixth
Latest news About Crypto Currency Another day sees more flippenings in the crypto market cap charts as the top ten digital currencies jockey for position. Today it is Tron?s turn as it climbs the chart and makes gains while those around it are in the red again. According to Coinmarketcap TRX has just surpassed Bitcoin SV and taken ninth spot on the charts. At the time of writing there was only $6 million difference between the two which is nothing when market caps run into the billions. However since Tron has generally performed quite well recently and BSV has done the opposite the likelihood of it holding on to ninth spot, and even climbing further, is high. This article was first found by us on January 08, 2019 12:30 PM. You may want to visit cryptonews24x7.net for more from this source.
TRON s Justin Sun Announces BitTorrent Token (BTT) as Officially Launched
?The world?s largest blockchain-based application, powered by people,? as described on the official BitTorrent (BTT) website, is officially operating. As announced by Justin Sun back in August when Project Atlas was revealed with the focus on the previously acquired BitTorrent where Sun soon (no puns intended) became the CEO of the company. Without changing the general policy of the way this data sharing peer-to-peer platform is operating, Sun introduced backward compatible operations, which means that BTT tokens can be used on the platform by users interested in getting faster bandwidth for downloads, while other users will still be able to use the well-known version of BitTorrent software for sharing files. This data was found by us on January 08, 2019 12:19 PM. See coinhooked.com to find more similar content.
Upfiring vs. Tron s Project Atlas A comparison of the two incentivized blockchain torrenting platforms that reward seeders for contributing to the network
P2P file-sharing has become a hot topic in the cryptocurrency world recently as Tron announces its planned release of BitTorrent Token (BTT). As of writing this article, there are no widely-scalable torrenting systems that incorporate blockchain and reward seeders. The current system ? frequently relying on downloading/uploading ratios ? only incentivizes uploading by forcing seeders to upload/seed in order to keep a specific ratio. But what if there was a system that made seeders WANT to seed? Both Project Atlas (BitTorrent) and Upfiring are two blockchain projects taking on this challenge ? albeit with different approaches to the issue. Here are several key differences between the two systems. This piece was found by us on January 08, 2019 12:00 PM. Visit zycrypto.com for complete listings from this source.
What Made Square Surge 15% in 2 Days Dow Jones Begin Strong Rally
In the past 48 hours, the stock price of Square, a mobile payment company operated by Twitter CEO Jack Dorsey, surged by more than 15 percent, after recording a 10 percent gain on January 7. The short-term recovery of technology stocks, with giants in the likes of Microsoft, Amazon, and Alphabet recording gains in the range of three to ten percent, led the U.S. stock market to initiate a strong rally on two straight days. A ten percent daily increase in the stock price of a company valued at tens of billions of dollars is rare. But, if the past performance of Square, especially in the third quarter of 2018 is considered, the recovery of the company?s stock price in the magnitude of today?s gain is not all that surprising. This piece was retrieved by us on January 08, 2019 11:57 AM. You may want to visit www.ccn.com for complete listings from this source.
Surprising Tron Price Uptrend Gets Speculators Excited
When most of the top cryptocurrencies are in the red or marginally in the green, there usually isn?t much to talk about. Today is a bit of a different day in this regard, as the Tron price is effectively rising in value pretty quickly. Some see this as a major breakout for Tron, whereas others are not too convinced this run will last very long. Even so, speculators are getting quite excited and offer some very appealing price targets. It is always interesting to see how some currencies tend to buck the overall crypto market trend. While that is usually something one would expect from minor altcoins, it now seems Tron is also trying its hand at doing so. That in itself is rather interesting to keep an eye on, even though the project has made some major headlines in recent weeks. Most of those developments haven?t necessarily impacted the price as of yet, but things can always change on a dime. This posting was retrieved by us on January 08, 2019 11:41 AM. Check out nulltx.com for more.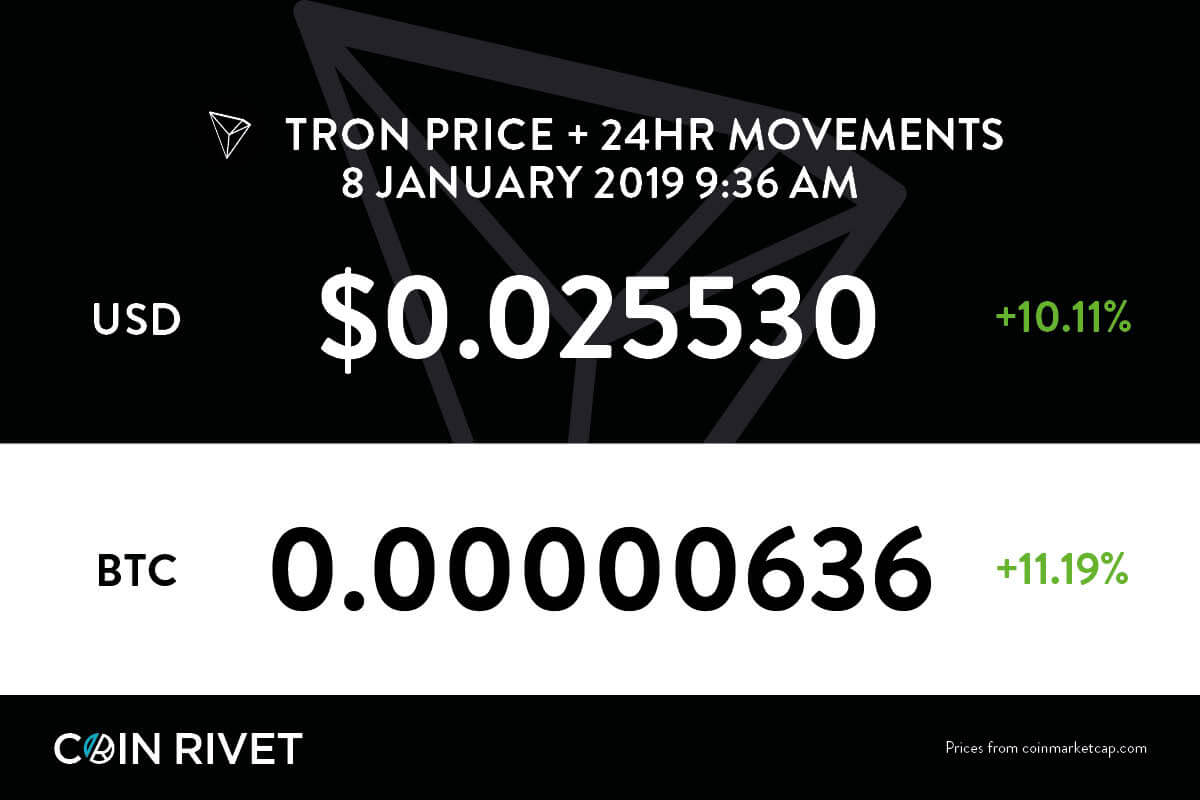 Latest TRON price and analysis (TRX to USD) - Coin Rivet
TRON (TRX) has seen a large ascend over the last 24hr. It has risen just over 10% against USD and 11% against BTC. Current live TRON pricing information and interactive charts are available on our site 24 hours a day. The ticker bar at the top of every page on our site has the latest TRON price. Pricing is also available in a range of different currency equivalents: British Pound Sterling ? TRXtoGBP The TRON Protocol is pitched as ?one of the largest blockchain-based operating systems in the world, offering scalable, high availability and high throughput support that underlies all the decentralised applications in the TRON ecosystem?. This post was first seen by us on January 08, 2019 6:36 AM. Check out coinrivet.com for additional posts.
Tron [TRX] becomes ninth-largest cryptocurrency after overtaking Bitcoin SV [BSV]
Tron [TRX] Technical Analysis: Token befriends bull in the bearish market Ethereum Classic [ETC] deep chain reorganization and double spend attack detected by Coinbase; ETC responds Bitcoin Cash [BCH] falls by 4%; Ethereum [ETH] and EOS down by over 3% Tron [TRX] weekly report: New projects in the pipeline as token aspires to outperform Ethereum [ETH] by end of 2019 Ethereum [ETH] Rinkeby Testnet hardfork will land on January 9, 2019, says core developer Ethereum [ETH] Rinkeby Testnet hardfork will land on January 9, 2019, says core developer Ripple and XRP would develop explosively in the future, says Japanese lawmaker and ex-banker This entry was obtained by us on January 08, 2019 5:00 AM. See ambcrypto.com for additional posts.
Tron Attracts Higher Interest From Developers A New Game Joins Tron Arcade
In 2018, Justin Sun invited developers on Ethereum to move their apps to the Tron network, and it seems that Tron?s founder?s words have been heard. Tron is gathering more and more attention from developers who are working on the Ethereum network, and the latest event is here to prove it. EtherGoo used to be an Ethereum-based game, but now, it will be running on the Tron network, and it will also be changing its name to TronGoo. The announcement was made public via a blog post a couple of days ago. The game works by allowing players to get Goo. They can either produce it or steal it from other players in the game. This article was first found by us on January 08, 2019 3:54 AM. Have a look at cryptoupdate.ca for more.
Bitcoin, Ethereum, Ripple, Bitcoin Cash, EOS, Litecoin, Stellar, Bitcoin SV, TRON, Cardano: Price Analysis, Jan. 7
As major institutional moves in the crypto industry loom on the horizon, we look at what the charts have to say short term. As the year kicks off with promises of major moves for institutional investors in crypto, let?s see what the charts say in the short term The views and opinions expressed here are solely those of the author and do not necessarily reflect the views of Cointelegraph.com. Every investment and trading move involves risk, you should conduct your own research when making a decision. The market data is provided by the HitBTC exchange. Will 2019 be a year of recovery for cryptocurrencies? One of the important events to watch out for is the launch of International Exchange?s (ICE) crypto trading platform Bakkt. While the Chicago Board Options Exchange (CBOE) and the Chicago Mercantile Exchange (CME) currently offer Bitcoin futures trading, both of their products are settled in cash. This post was retrieved by us on January 08, 2019 2:42 AM. Have a look at cointelegraph.com for more.
Project Atlas : Integration of Tron Blockchain to BitTorrent
A Cryptocurrency and Blockchain Knowledge Sharing Network BitTorrent is a communication Protocol which enables its user to share the files over Interest in Peer to Peer form without any need for centralised Server. BitTorrent is the initial version of Peer to Peer network where files i.e Music, Movies, Games are shared across interest without any intermediary Involved. This Idea gradually evolved into cryptocurrency where you can transfer not only the file but also transfer value across the internet. Protocol was invented by Bram Cohen and first version was deployed in July 2001 We have all used online streaming Platform like Netflix,Amazon Prime where the data is streamed from the central server. However in BitTorrent we can share any file i.e Movies, Games, Music using the BitTorrent Protocol. This sharing technology is possible using the BitTorrent Clients which will facilitate  preparing, requesting, and transmitting any type of computer file over a network, using the protocol.Some of the Example of BitTorrent Clients are : uTorrent, BitTorrent. This is available across different Operating Systems.  This share was found by us on January 07, 2019 10:02 PM. Have a look at trybe.one for more.
TRON Weekly Report: TRON Is Aiming To Have More DApps Than EOS By the End of Jan
The Tron Foundation in its latest weekly report stated that it continues to work on its wallet and multi-signatures. The Tron Foundation in its weekly report released on January 4, announced that it plans to overtake EOS regarding the amount of DApps on its network by the end of January 2019. Tron also reported that it had completed work on its wallet regarding token name duplication, and was continuing work on its wallet for test multi-signature. The report also covered numerous other developments related to Tron, including that proposal No. 13 submitted by Tron Founder Justin Sun was approved to increase the amount of total energy on the network to 100 billion. This post was first seen by us on January 07, 2019 7:48 PM. You may want to visit blokt.com for complete listings from this source.
Tron (TRX) Riding the BitTorrent Wave
Tron?s massive takeover of world famous torrent website BitTorrent last year is finally shaping up. According to BitTorrent Inc?s official Twitter handle BitTorrent will launch the BTT token to help incentivize activities to develop a more efficient file sharing system. You missed the livestream about our new token BitTorrent $BTT? Here is a recap for you! Visit our website to learn more about the token and its crowdfunding on #BinanceLaunchpad @binance https://t.co/xq4qdCMKDl pic.twitter.com/OfxUrM7JlI ? BitTorrent Inc. (@BitTorrent) January 4, 2019 The crowdfunding of the BTT token will take place on Binance?s launchpad which helps users to be part of potential game-changing projects. The whitepaper reveals that there are 990 billion BTT tokens, which will be TRC-10 based. TRC-10 is a technical token standard supported by Tron Blockchain natively without the Tron Virtual Machine (TVM). The token so far has been reported to be able to work with the traditional uTorrent Classic client as it has the most users. It will also enable users who don?t want to spend BTT to share files still. Justin Sun has said that the main reason for a BTT token was that TRX token?s are not enough to be distributed among the massive user base of BitTorrent. Sun is confident about Tron surpassing a user base of billions and clarifying that the current amount is only 1%.   This entry was first seen by us on January 07, 2019 7:28 PM. Visit zerocrypted.com to find more similar content.
Cryptocurrency Bull Run: Tron (TRX) Leads Bitcoin SV, Goes Past Cardano (ADA), IOTA (MIOTA)
Tron TRX is ahead of Bitcoin SV in the cryptocurrency market, the digital currency is leading Cardano (ADA, IOTA (MIOTA) and Monero (XMR) with wide margin. The digital currency has been on a bull run for some days now. It is noticed that nearly all digital currency are showing a bullish trend, but that of Tron and some other digital assets are extremely outstanding. At the point of writing this article, Tron (TRX), with a market capitalization of $1.56 billion, is leading Cardano (ADA) and IOTA (MIOTA) with over $292 million and $529 million respectively. In the same line, the margin between Tron and Bitcoin SV is nothing less than $6 million. This data was obtained by us on January 07, 2019 5:44 PM. Have a look at todaysgazette.com for more from this source.
TRON Designs Token For BitTorrent
Justin Sun, the founder and CEO of the TRON Foundation Community has announced that one of the key reasons for the foundation of designing a new token for BitTorrent. In addition to this, Sun has announced some of the positives for holders of TRX within the TRON community. Sun said that all the holders of TRX were going to be assigned some of the tokens the new venture for BitTorrent which was revealed in the report. On top of this, he went onto reveal that the BitTorrent token would soon be a big attraction from the current state, BitTorrent user base which has over ten million users at the time of writing. Sun went onto say that these users would be interested in the token system and could take some more steps into the community among the cryptocurrency. This data was first found by us on January 07, 2019 5:33 PM. Visit cryptodaily.co.uk for more similar content.
Tron (TRX) Edges out Bitcoin SV (BSV) from the Number 9 Spot According to Market Cap
The second week of 2019 has found the digital asset of Tron (TRX) edging out Bitcoin SV (BSV) from the number 9 spot according to market capitalization as reported on Coinmarketcap.com. At the moment of writing this, TRX has a total market capitalization of $1,558,286,427 whereas BSV has a market cap of $1,552,070,232. Only $6.216  Million in market cap separate the two digital assets. A screenshot of the current situation between the two digital assets can be found below. Tron?s CEO, Justin Sun, had predicted the event via a tweet not more than 8 hour ago. The full tweet can be found below. #TRON will surpass #BSV very soon. My bad.?@ProfFaustus #TRX $TRX pic.twitter.com/kysffRcWgD This item was retrieved by us on January 07, 2019 5:29 PM. See ethereumworldnews.com for additional posts.
Aggregated knowledge base entries about TRON (TRX) Titles not entered by Crypto.BI and are Copyright(C) their original authors.
---
Send us news tips, suggestions or general comments by email: contact [at] crypto.bi