There have been several cryptocurrency projects called OneCoin.
In some cases, the name was not properly researched and got accidentally reused by different small projects.
But, in one case, the project was such a blatant fraud that they simply didn't care to research what the coin should be called.
The fraudulent OneCoin was simply launched and heavily promoted until it raised several billion dollars which, of course, eventually evaporated along with the entire project.
In this article we take a look at the OneCoin ponzi scheme along with a short overview of the "naive OneCoin's" that came before it.
OneCoin Ponzi
The most infamous OneCoin was a ponzi scheme operated by a team led by Dr. Ruja Ignatova, a PhD in German Law from Bulgaria, and other associates from many different backgrounds.
It is considered one of the largest Ponzi schemes ever discovered with over U$ 4.9 billion dollars defrauded from investors.
After a ruling by a Federal Circuit Court in California in late March 2017, CoinMarketCap.com was ordered to list OneCoin, even though it was never widely traded in renowned exchanges and its volume x price data was deemed unreliable.
After this listing, it reached the #2 highest market cap of all cryptocurrencies: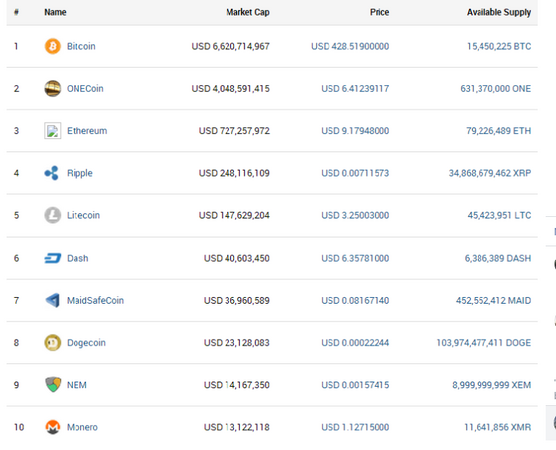 OneCoin was traded at XCoinX.com exchange, which provided the volume and price data displayed at CoinMarketCap. The data provided by XCoinX was later deemed "invented" – it was absolutely fake.
XCoinX has since been labeled a phishing site by Cloudflare:
Community Reaction
The cryptocurrency community is not easily giving up on the U$ 4.9 billion they lost in the OneCoin scam.
A lot of reactions continue to pour in, especially in trying to track down the ambassadors, salesmen and founders of the ponzi scheme.
Here's a list of Onecoin (active and former) scammers who fervently promoted what they knew was a fraud system, to enrich themselves. Onecoin stole over $5,000,000,000 to date

Ed Ludbrook, former "Onecoin Asian Ambassador," started a "crypto Exchange" in New Zealand called Dacxi pic.twitter.com/YiyNRNUghp

— Tim Tayshun (@ezCoinAccess) January 11, 2020
Spread the word! OneCoin is a scam. Listen and hear the pain its causing to poor Ugandans and others round the world. In Uganda, its spread is also fueled by greedy sham pastors https://t.co/sAASdZSZdd

— Mikisa Richard (@rmikisa) January 10, 2020
After Ruja told her brother that she was tired and asked him to leave with her, she met with multiple senior Onecoin associates at her home. #AutoTrading #Bitcoin #Cryptocurrency https://t.co/MDQoR4CxPv

— Kush Jain (Mudrex) (@kushjain11) January 14, 2020
#OneCoin one of the greatest scams in the history of humankind. 🚨

🔸#cryptocurrency that was never a cryptocurrency.
🔸#scam is running to this day
🔸Where is Dr. Ruja Ignatova? aka. #cryptoqueen
🔸Cult-like environment

Check out the article in the comments to know more🔽 pic.twitter.com/wtZps3ZK7T

— DAO Maker (@TheDaoMaker) January 7, 2020
OneCoin's BigCoin Background
Dr. Ignatova was reportedly behind the BigCoin scam before OneCoin.
Here is a video of Ruja Ignatova promoting BigCoin in 2016
Website BehindMLM goes even farther and states OneCoin is simply a reissue of BigCoin:
Through further research and the investigative efforts of BehindMLM reader OzDelphi, we can now provide you absolute confirmation that OneCoin was a simple relaunch of the BigCoin Ponzi scheme before it.
Phishing Site Warnings
Several online scam registrars have marked OneCoin as a phishing scam. CloudFlare, for example, has added the site to its blacklist, warning users before they proceed to any domains owned by the OneCoin companies.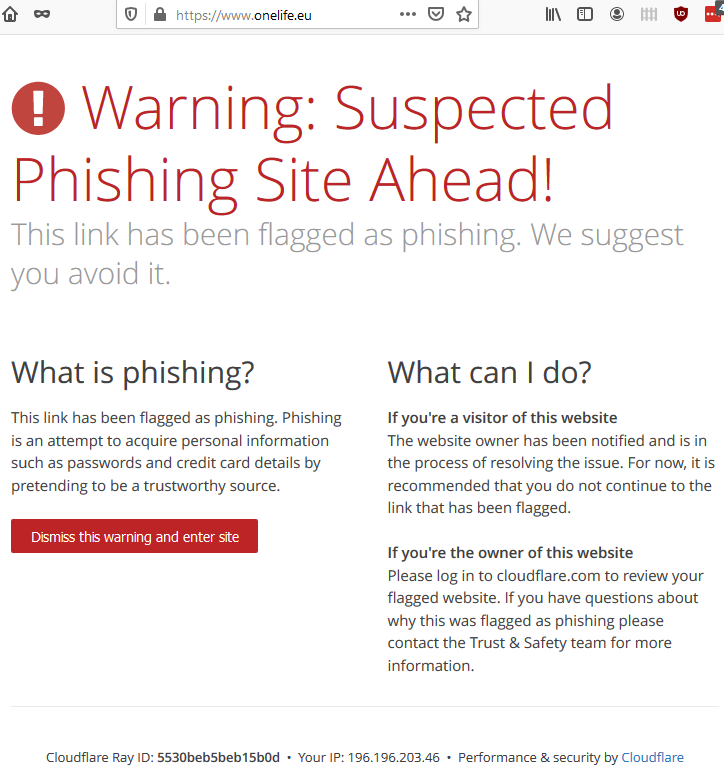 Cloudflare image courtesy of @CryptoXpose
OneCoin's from 2013, 2014 and 2017
There was an early SHA256 based PoW cryptocurrency called OneCoin announced in 2013, another OneCoin announced in 2014 and yet a third OneCoin announced in 2017.
The latter two apparently had not researched the name before announcing it to the community as a new coin, generating much confusion about which OneCoin is which.
None of these are related to the OneCoin Ponzi scheme.
These are simply first generation cryptocurrency Bitcoin forks in the same way as Litecoin and Dogecoin were.
Since SHA256 Bitcoin forks do not offer any mining advantage or ASIC protection, these early forks quickly disappeared due to lack of miners.
The "2017 OneCoin" apparently is a Blackcoin and not a Bitcoin Core fork.
As of late 2017 not much activity was detected around any of these OneCoin instances.
Links
Scot duped in £4billion OneCoin scam linked to mafia reveals £250k nightmare
OneCoin Website Goes Offline as Net Closes in on $4B Ponzi Scheme
2019's juiciest crypto drama: The saga of OneCoin's $4B 'cryptocurrency' scam
'Cryptoqueen' brother admits role in OneCoin fraud
OneCoin lawyer found guilty in 'crypto-scam'
Buyer Beware! The Definitive OneCoin Ponzi Exposé
OneCoin's market-cap is now over double the market-cap of Bitcoin, according to OneCoin.