August 2020 Update
The RAWG Telegram group seems to have been deleted.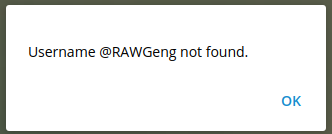 The most recent post on the RAWG subreddit is from over 1 year ago.
The last official tweet was published in November 2019: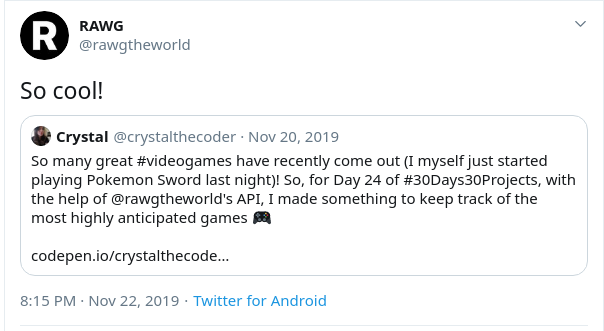 We've therefore moved RAWG to the Dead Coins section.
Original Post:
RAWG is an online service with a database of games from all popular platforms and a recommendation system.
Think of it as a IMDb for games.
It combines a personal library, a recommendation system, a social service to connect with friends and influencers about gaming and a calendar for events and games releases.
RAWG is a web app. It utilizes ReactJS, Node.js, Python 3, Django Framework, Git for code versioning, GitHub for code and technical documentation storage.
RAWG is being developed to:
› › answer the question "what to play next" based on the user profile;
› › allow gamers to obtain real-life benefits from gaming skills, utilizing a blockchain platform;
› › provide advertisers with access to the target audience enabling targeting that takes into account the actual interests of users.
The goal is to build a cross-platform ecosystem where gamers will spend time tracking their collection of games; sharing their impressions and achievements with friends; allow brands to help users find the best entertainment; award users for their gaming skills.
Expected sources of RAWG's income:
› › sales of advertising (main);
› › promoting services and goods of partners.
The starting price of RAWG's premium advertising format is $3 per 1,000 views (CPM) 16 . The market price for a similar format on other platforms depends on the audience — the number of people who use the site (MAU) at least once a month. For example, Eurogamer is $19 to $55 per CPM.
Game Recommendation Scene
Today gamers get their recommendations from various sources including media, streaming services, bloggers, platforms, and online game stores. Each source has its flaws. Media, bloggers, and streamers cannot possibly cover all games released and people usually possess biased opinions towards platforms, companies, or genres. Platforms do not see each other as allies; on the contrary, they compete for users: PlayStation Store will never recommend an exclusive title for Xbox, while the latter will never tell about new items in the App Store.
Nearly one-third of gamers who work would quit their job and if they could support themselves by playing games 15. Nearly one-third of gamers who work would quit their job and if they could support themselves by playing games (15). The popular ways for gamers to benefit from games and associated difficulties:
› › Game streaming. Gamers play and broadcast themselves online on one of the dedicated platforms. They monetize content through advertising and donations from users. Difficulties: Gamers need time to attract audience and interesting content. There is high competition on streaming platforms, hence the chances to benefit are small.
› › Creating video game walkthroughs. Difficulties: There is high competition, and there is no need for many walkthroughs for each game. Besides, it is time-consuming, and not everyone has a talent to describe their gaming experience.
› › Podcasts or video blogs. Difficulty: It is difficult to create content. It takes time to attract audience and advertisers.
› › Gaming competitions. Difficulty: A high entry threshold.
› › Feature articles, reviews and interviews. Difficulty: High competition.
› › Testing games. Difficulties: It is a low-paid and time-consuming job. Besides, it has little to do with playing, it is more about finding unique scenarios and errors in games.
› › Some games reward gamers for playing. They are mentioned below.
The above ways are closer to ordinary work, but they usually take more time to give a comparable reward.
RAWG tokens
RAWG tokens are the base of the RAWG token system:
› › Advertisers will be able to purchase RAWG's services with tokens with a 30% discount.
› › Gamers will get awards in tokens for achievements.
› › RAWG partners will accept tokens when providing their goods and services.
Below is the initial price for advertising services on RAWG. Prices may vary in the future as well as the services themselves.
RAWG token is ERC-20 based. Gamers can receive it for their gaming activity and data their share with RAWG and for content creation. There are certain rules for receiving tokens in order to encourage the most involved and interested audience on the one hand, and to cut off the inactive audience and increase the competitive burden of inactive accounts on the other hand.
There are several types of participants in the system. These are gamers, partners, advertisers and RAWG. The token solves different tasks for each type of participants and serves as a way to fulfill the interest of all participants.
› › For a gamer, the token is a unit that certifies his achievements and activity in games.
› › For a partner, the token is a means to acquire leads to try their services or goods.
› › For an advertiser, the token is a unit for the advertisement to the target audience.
RAWG Token Sale
RAWG tokens crowdsale will be conducted by Behind RAWG, a legal entity incorporated in the Cayman Islands.
Crowdsale period: The crowdsale is scheduled for September 5, 2018. It finishes on December 31, 2018, or if all tokens allocated for the crowdsale are sold, whichever comes earliest.
To buy one RAWG token you should provide an equivalent of $0.03 in BTC or ETH.
The crowdsale is considered successful if 66,666,667 tokens are sold. The maximum number of tokens that may be acquired during the crowdsale is 333,333,333.
In total RAWG issues 866,666,666 tokens. The tokens are allocated as depicted. The tokens that are not sold, earned through the aridrop or bounty programs, received as bonuses are burnt.
Links