ReddCoin (RDD) is a cryptocurrency inspired on Reddit and social networks in general. It was originally forked from Litecoin which, itself, was forked from Bitcoin Core.
RDD was created to allow easy tipping of social media users and also to promote microtransactions.
Since it can be incorporated into other social networks it is ideal for sending digital currency to users serves as a kind of reward.
The ReddCoin blockchain gives incentives to users to use the coins instead of hoarding.
ReddCoin come with features intended to help users spend their coins or share it with others.
Is ReddCoin Mineable? If so how is it mined?
Reddcoin originally used scrypt and could be mined using the same algorithm as Dogecoin and Litecoin.
Later on Reddcoin forked into a Proof of Stake system called PoSV (Proof of Concept Velocity).
In 2020 Reddcoin forked once more into PoSV version 2 system.
Currently, Reddcoin is earned through staking.
Monetary Data
ReddCoin Cryptocurrency has 28,774,151,177 circulating coins.
History
ReddCoin is a network that lets anyone send and receive RDD payments using low fee transactions which originally were carried out especially via social networks.
The plan was to allow users to easily transfer money to their family and friends through any social media platform.
It aimed to be a version of Facebook Cash or Snapchat's Snapcash using blockchain.
It uses PosV also known as Proof of Stake Velocity (PoSV) which rewards both size of stake and overall activity (where the velocity part comes in).
Via Initial Public Coin Offering, ReddCoin was introduced on January 20, 2014, but officially starts circulating on February 2, 2014 after a week of pre-mining.
The goal was to become the top social currency to help people trade value in their online social experience. It also aimed to make digital currency easy for the general community.
It was made to have a limit of 109 billion coins and 50% of it had been mined by the end of 2014 through PoW.
ReddCoin was planned for a transition to PoSV on August 2, 2014, which added 27 billion coins to the total circulating amount. As of January 2018, the RDD network had 28,626,594,445 RDD in circulation.
What makes it Different?
Since ReddCoin is associated with social networks such as Facebook, Twitter, and Reddit, just like hitting like buttons, users can tip a specific person they want to with just a click. They can use it as an alternative to tipping using other currency because it's faster and cheaper.
Reddcoin also has special features that make it different from another blockchain network. Through social media platforms, the user can send and receive money without paying a dime. It's a peer to peer source originated from Litecoin that dedicated efforts to use tipping method using social networks. Also, it uses an algorithm that has both ownership and activity.
Who is behind REDDCOIN?
ReddCoin made way in announcing the new list of their team members along with the developers John Nash and Leonard Simonse. Through tweets, they publicly presented the addition to the developers like Bradley Ploof and James Tweeg. Other team members are Eric Wursteisen, Samuel Gosling, Daniel Platten, Ryan Colditz, Jason Brink, Jay Laurence, and Thomas Van Engelen.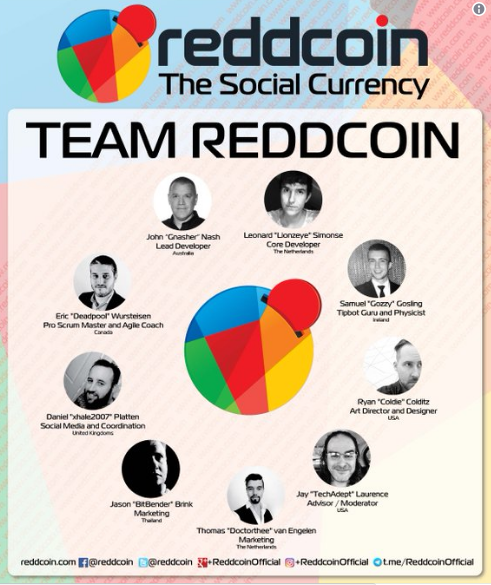 Links
Bitcointalk Announcement Thread
What is Reddcoin (RDD)? A Beginner's Guide
ReddCoin (RDD) Is Mounting A Challenge To Become The Number One Social Coin (And it's succeeding…)