The general thought behind TerraGreen is to use the blockchain technology and cryptocurrency to make the earth (Terra) a greener place by revolutionizing the concept of how green energy is produced and supplied to the customer.
In contrast with current methods of energy production via fossil fuels like oil, coal and natural gas, TerraGreen focuses on renewable energy that is generated from waste and renewable elements. In the end, TerraGreen's purpose is to create a truly sustainable and clean community while allowing consumers to directly participate in the renewable energy industry in a positive manner. It is all in our own interest to stop the pollution by coal and oil and move to an age of renewable energies.
We have only one earth and we need to take good care of it. TerraGreen intends to break down the walls between energy producers, investors, utilities and consumers so that people get involved and influence how their energy is produced personally.
Motivation
Environmental stress to earth has induced an urgent quest for innovation in the energy structure on a global scale. As evidenced by the 148 nations which ratified the Paris Climate Accord, there is profound interest in fostering a cleaner future as these nations agreed to fulfill its responsibility by capping GHG emissions as soon as possible. However, the measures taken by companies and governments addressing global warming due to climate change are often tainted with controversial, insincerity, inconsistent policies and conflicting interest. It has been far too long since people have placed both their hope and trust in big companies and the governments to bring about change and lead the way for generation of green energy to mitigate the catastrophic effect of climate change.
In hindsight the enormity of global warming is mainly due to the disconnection between energy users and energy producers. The users have no way to control or influence the generation of energy and have to completely rely on the companies or governments' profundity in managing the energy supply.It is well known that climate change poses the risk of having significant negative impact on future generations and the use of traditional counter-measures have proven to be insufficient over the long term. TerraGreen is all about bringing reform in the existing energy supply structure and transition to a new energy system through the use of the blockchain technology that can fundamentally reduce GHG emissions and mitigate waste pollution.
TerraGreen is an ecosystem, where renewable energies are tokenized and can be used by the community in exchange for fiat currency or payment for consumed energy. But we are not stopping there, we want to use the blockchain technology in a way that users can monitor how the energy is produced and what it is used for.
TGN TerraGreen Token
The total supply of TerraGreen token (TGN) is set at 270 million. We have constrained the initial circulating supply, which will therefore increase growth in demand. Only about 50% of the total cons will be unlocked at first after the ICO. 20% is reserved for rewards for the master nodes and the rest of the TGN is locked in vesting contracts, to be released in line with demand and performance. The tokens and funds have been allocated as pictured: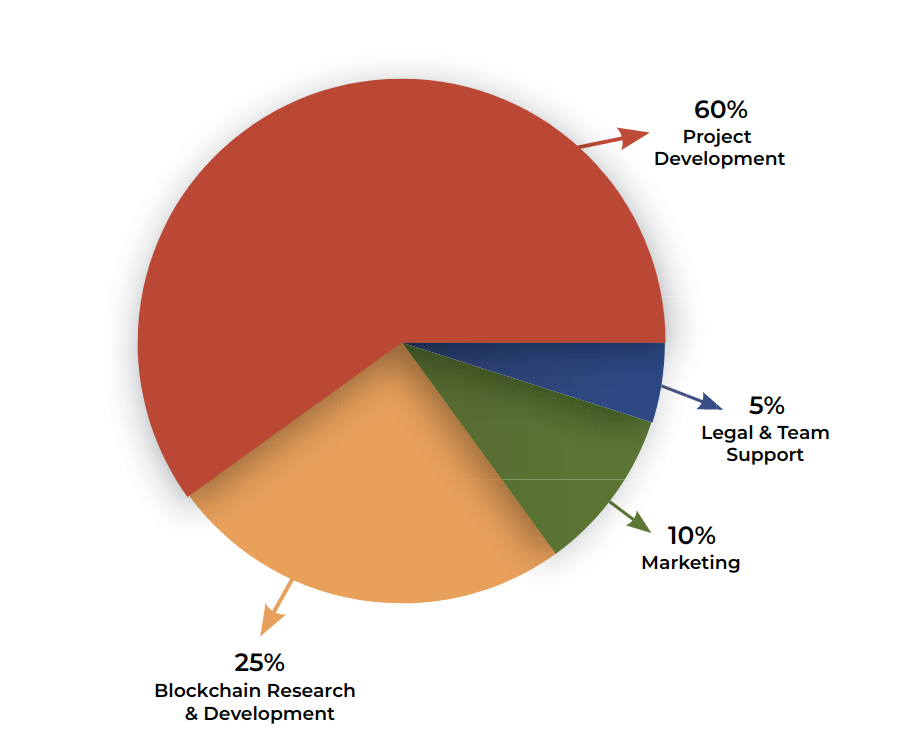 Contact