Update
The Tonercoin website is no longer responding: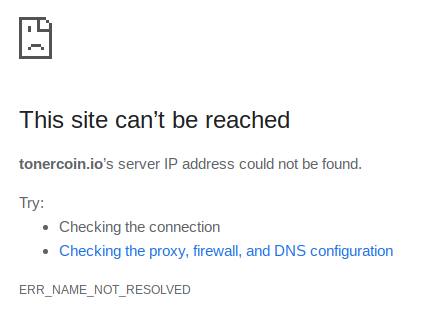 According to CoinGecko the coin is inactive.
For these reasons, we've moved this project to the Dead Coins section. Please let us know if you feel this was done in error.
Original Text
TonerCoin is a unique blockchain-based option directed towards manufacturing biotoner.
TonerCoin – a project, built on crowdfunding model — TGE, participants play an active role in expansion of production and are owners of tokens.
Toner is a powder mixture used in laser printers and photocopiers to form the printed text and images on the paper.
Big amounts of toner are used annually. Median price of toner varies between type and manufacturer and is approximately 6 to 20 dollars/kg. Every year consumables market grows for 15-20 percent average.
Having analysed situation, TonerCoin has come up to a decision that new, more ecological and cost-effective technology is needed.
TonerCoin TONER Token
Developed by certified specialists of toner manufacturing, who have been working with copiers for over 11 years. That allows cutting costs of manufacturing toner for 50% by using recycled materials and reducing expenses of many areas. (every user)
TonerCoin TONER token will be based on the Ethereum platform.
TonerCoin Implementation
There are several stages of project implementation:
1. Bounty Campain. In order to popularize our campaign among users of the crypto-currency sphere, we allocate 3 million tokens for this campaign, which is equivalent to 300,000 dollars (with the lowest price of a token on PRE-ICO 10 cents). Selection of candidates will begin by the end of May 2018.
2. Pre-sell of tokens on PRE-ICO. This stage is needed for a marketing company, for making ICO. Tokens will be sold on lower price of 10 cents per token. As a result, articles will be published, advertising in mass media, polygraphic production. Advertising on ICO sites. Shooting video reviews. Organising and participating in conferences and forums. Manufacturing industrial model and it's start.
3. ICO. Goal of this stage is to raise 3.850.000 dollars. 11 million tokens are to be sold.
4. Presale of production. After ICO, presale will be announced. It is important to know, that the price will be much lower than the price of competitors. Because of limited plant capacity, shipment will be in queue order.
5. Buying land plot. In Chelyabinsk Region, Sosnovsky Area and making design estimates documentation.
6. Building TonerCoin facility. It is expected that it will be up and running after ICO in about 6 to 11 months.
7. Sales. Organising sales department and establishing sale channels.
8. Assembling. Making and installing assembly line and making contest between source providers.
9. Testing. Testing and commissioning works with starting manufacturing presale orders. Estimated manufacturing volume is 60 thousand kg. a month.
TonerCoin Token Sale
BOUNTY
Bounty start date: 01.10.2018
Bounty end date: 30.11.2018
Bounty Token Supply: 3 000 000
PRE-ICO
Pre-ICO start date: 01.11.2018
Pre-ICO end date: 30.11.2018
Pre-ICO Token Supply: 3 000 000
Soft cap: 50,000 USD
Hard cap: 300,000 USD
ICO
ICO start date: 01.12.2018
ICO end date: 31.12.2018
ICO Token Supply: 11 000 000
Hard cap: 3,850,000 USD
TOKEN DETAILS
Ticker: TONER
Type: Utility-token
Token Standard: ERC-20
Additional Token Emission: No
Token price in PRE-ICO USD:
1 Token = 0.10 USD
Token price in ICO USD:
1 day: 1 Token = 0.35 USD
2 day: 1 Token = 0.45 USD
3-31 day: 1 Token = 0.55 USD
Accepted Currencies: ETH
Company Details
ООО «Изумруд», ОГРН: 1137453003621
ИНН: 7453254479,
КПП: 745301001
http://chelyabinsk.tizu.ru/company/9050027/
Links