Coin Dance is a Bitcoin statistics website which presents lots of interesting data about Bitcoin, Bitcoin Cash and Bitcoin SV.
The main interface presents side-by-side comparisons between the three main Bitcoin-derived cryptos: Core, Cash and SV, including Hash Rate, percentage of Network Nodes, percentage of transactions, block sizes, development info and lots more.
Fee Comparison
One of the nice features in Coin Dance is a fee comparison between Bitcoin Core and Bitcoin Cash:

At the time of this writing it was 322 times more expensive to transact Bitcoin than it was Bitcoin Cash.
Politics not Aside
Coin Dance has a section of their interface dedicated to Politics and Public Opinion
In that section you'll find several data summaries including the legality of Bitcoin in several regions of the world, new proposals being voted on and other political topics.
Blocks
In the blocks section of the site you'll find information about recently mined blocks, including the Coin Base text each miner adds to the recently found blocks.
A 7 day aggregate chart shows the concentration (or lack of) mining power among major pools: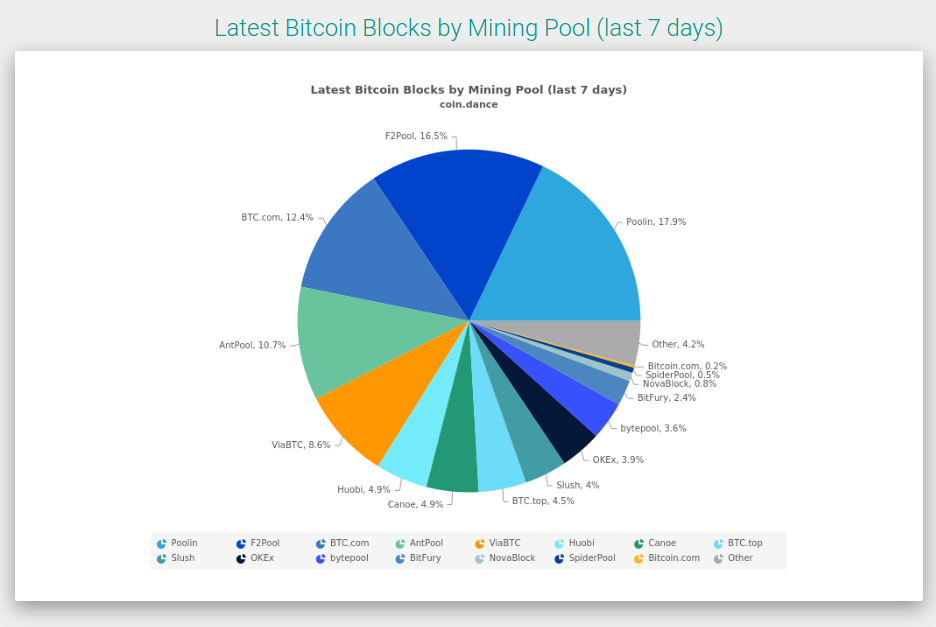 Conclusion
So, this has been our short intro to Coin Dance.
It's an interesting data viz site that compiles many interesting bits of information about Bitcoin and its two most popular forks: BCH and BSV.
References