Carlos Matos is a self-described investor and entrepreneur from New York.
He gained notoriety for his overly enthusiastic presentation of Bitconnect at the October, 2017 annual ceremony in Thailand.
In fact, this was Bitconnect's only annual meetup as the ponzi scheme collapsed shortly thereafter on January of 2018. Matos claims to have lost over U$ 100,000 due to BCC's collapse. He infamously stated that his wife did not believe him when he said he lost everything in Bitconnect.
Before Bitconnect, Matos seems to have been investing in gold:

Several posts on his Facebook feed are in Spanish, suggesting Latin American roots.
Links to Bitconnect
It is not clear what Matos' links to Bitconnect were.
Officially he was just a customer who received free air tickets and hotel stay in Thailand in order to participate in the annual event.
A post on his Facebook feed seems to indicate that Matos was involved in a high yield cryptocurrency investment as early as July 2017, 3 months before his infamous presentation.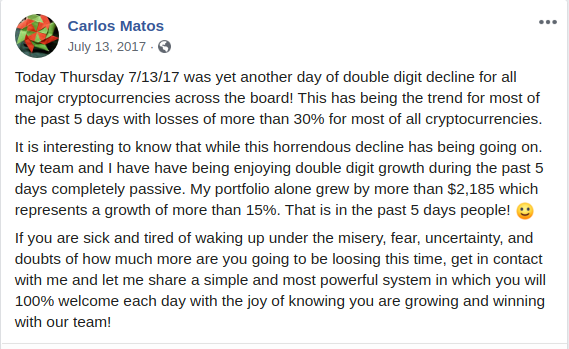 Current Activities
Today a Twitter account using Carlos Matos' name says he sells Herbalife products:
It's not clear if this is a parody account or not:
In a video from mid 2018 Matos seems to mock his own Bitconnect presentation, though the ponzi name is not mentioned at all.
In several occasions he has claimed to live in the Bronx, NY, area.