The so called Brock Pierce scandal became a WWW sensation after it was mentioned by comedian John Oliver in an episode of Last Week Tonight.
Following the scandal, Pierce had to step down as Chief Strategy Officer at Block.one, the company behind the EOS cryptocurrency.
John Oliver's Last Week Tonight Segment
Oliver did a full 25 minute segment on cryptocurrencies which, for several days, generated a lot of buzz in social networks.
During the second half of the episode, Oliver highlighted several high profile cryptocurrency-related scandals, starting with Bitconnect and the infamous Carlos Matos performance.
According to the British comedian, cryptocurrencies are "everything we don't get about money combined with everything we don't get about computers".
The episode featured a paparazzi interview with Michael Keaton, where the 2014 Best Actor Academy nominee stopped to discuss Bitcoin with the photographers outside a restaurant.
18m53s : Block.one
At approximately 18m53s into the segment, Oliver starts discussing the case of cryptocurrency development company Block.one and the EOS project.
The comedian then mentions how Block.one raised U$ 1.5 billion when Facebook took 7 years to raise the same amount of capital.
19m42s : Brock Pierce
At 19m42s a clip featuring Brock Pierce where he says EOS will be "better, faster and cheaper...everything will be more connected, everything will be more trustworthy....everything that exists, will no longer exist in the way that it does today".
The from 20m20s on, Oliver starts to profile Brock Pierce, calling him a "sleepy, creepy cowboy from the future" (presumably because Pierce is wearing a cowboy hat).
20m36s: Brock Pierce Scandal
At 20m36s comedian then invited his viewers to search for Brock Pierce scandal as an example of the type of cryptocurrency controversy he had been discussing for the better part of the clip.
As a result of the massive audience searching for "Brock Pierce scandal" simultaneously, the phrase became an instant Google Trend sensation in March 2018 (see featured Google Trends screen capture).
Full Episode
Watch the LWT episode which triggered the Brock Pierce scandal search trend:
Who is Brock Pierce?
Brock Pierce was a child actor who later went into the video-game business, specifically into the virtual assets niche - items that could be bought and sold inside videogames.
Born in 1980 in Minnesota, Pierce began working with cryptocurrencies at age 33, in 2013.
The in-game nature of his first post-acting career business naturally led him to cryptocurrencies.
By October 2017, he had raised over U$ 88 million in venture capital for cryptocurrency projects.
His biggest project, the EOS ICO, raised over U$ 700 million, making it the most successful initial coin offering of 2017 (an overall spectacular year for ICO's and cryptocurrency valuation).
At the time of this writing, EOS ranked #8 among the most valuable cryptocurrencies on CoinMarketCap.com, with a market capitalization of U$ 3.9 billion dollars - 557% above the amount raised on the 2017 ICO.
Pierce's Bitcoin Foundation Tenure
In 2014, Pierce was elected to manage the Bitcoin Foundation, a tenure marred by mismanagement allegations.
One year later the organization went bankrupt.
Tether
Pierce is an advisor at Tether.
He is one of the co-founders of the Tether project, having joined at its inception phase. At this time, Mr. Pierce worked at Mastercoin, which later became Omni.
Historical Note
For many years Tether was known as Realcoin and run only on top of the Omni system (a 2nd layer that ran on top of Bitcoin). Today, Tether uses Ethereum, Tron and Omni.
Brock Pierce Net Worth
It is estimated that Brock Pierce owned between U$ 700 million and 1 billion dollars worth of cryptocurrency in early 2018.
2020 Presidential Run
In July 2020, Brock Pierce announced he was running for President of the United States.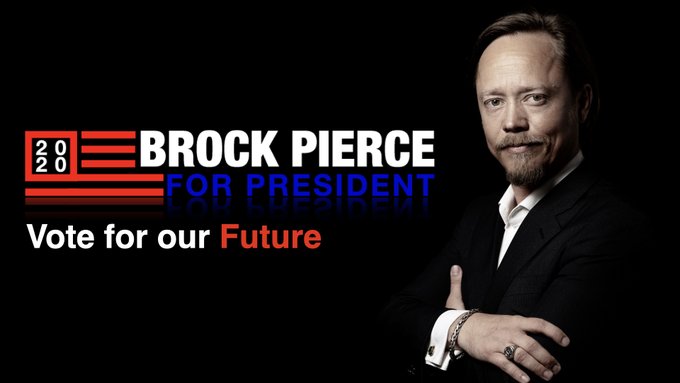 Pierce's platform was based on technology as a tool for reform.
Shortly after the announcement, Google Trends displayed renewed interest in the candidate, showing a spike of searches for Brock Pierce early in July 2020: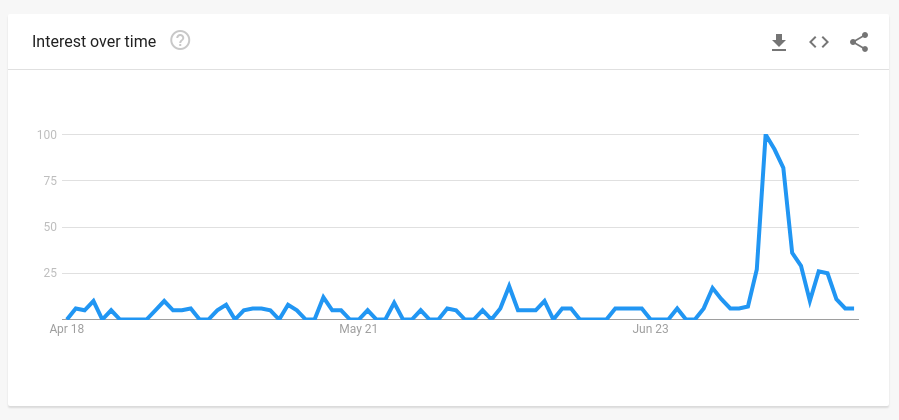 References
Brock Pierce Blockonomi Profile
Feature story from The Hollywood Reporter
Buzzfeed: The man at the heart of Hollywood Sex Abuse Scandal
Main illustration credit: Google Trends