MicroStrategy is a US-based data analytics company which provides software, services and other solutions for enterprise decision making.
The company entered the cryptocurrency news radar in 2020. According to Google Trends, "microstrategy bitcoin" is the #1 search string related to the company in 2020, with a 500% increase in interest.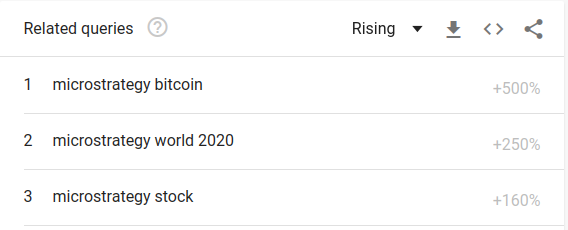 MicroService Adopts Bitcoin
In August 2020, MicroService made the news when they announced they had adopted Bitcoin as their primary treasury reserve asset.
The company purchased 21,454 BTC at an aggregate price of U$ 250 million (U$ 11,653 / BTC).
MicroService CEO Michael Saylor mentioned several factors that affected the decision, including COVID-19 and government stimulus (possible inflation).
The company's popularity skyrocketed during this period, achieving peak search volume in August 2020: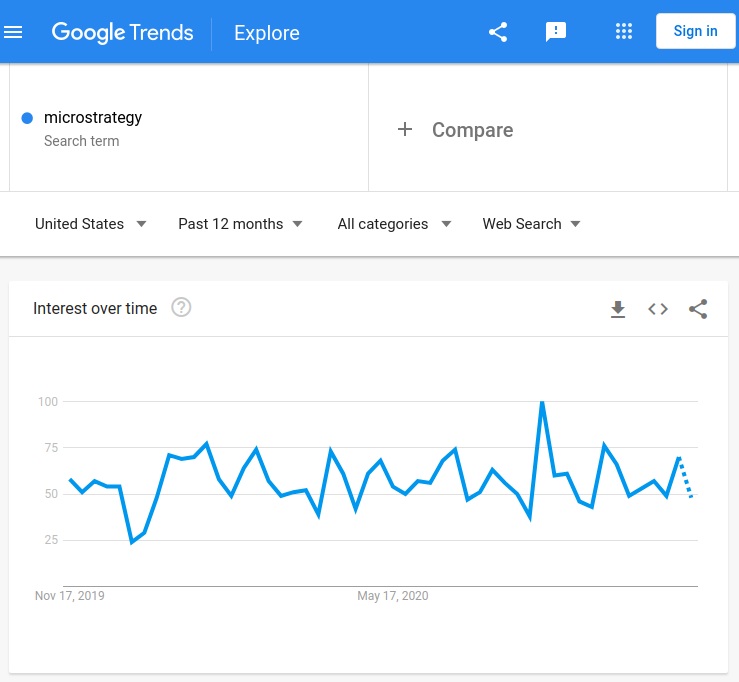 Market Reception
The market gave the Bitcoin purchase a sign of approval, when MSTR stock shot up as much as 18% on the news.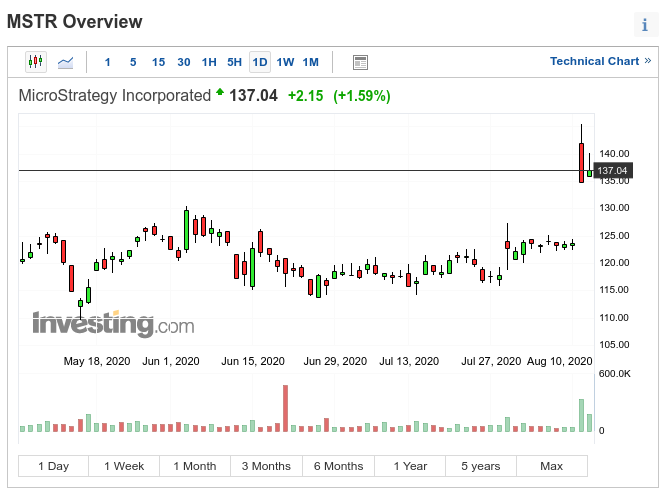 Social Media Reaction
The decision received largely favorable coverage in social media:
Some of the criticism came from users who believe Bitcoin valuation is too high now or that stablecoins could pose a risk to the liquidity of the investment.
>
Links
Microstrategy CEO Personally Owns $240 Million in Bitcoin — Company's BTC Profit Eclipses Other Earnings
MicroStrategy Is Looking to Buy More Bitcoin, President Says
'Garbage' Market Data Is Holding Bitcoin Back: MicroStrategy CEO
MicroStrategy Buys $250M in Bitcoin, Calling the Crypto 'Superior to Cash'
3 Reasons Why MicroStrategy Adopted Bitcoin — And Why Others Will Too
Software firm MicroStrategy makes a massive bet on Bitcoin with a $250 million purchase