Pocaga was an online casino and online gambling platform ICO which ran in early 2018.
ICO Sale
The pre-sale ICO raised over U$ 7 million on its first round.
The ICO had two additional rounds of funding at U$ 1 and U$ 1.50 per PCG token
As of early 2020 the Pocaga.io site no longer had a DNS entry and the Facebook page had been deleted.
PCG tokens are not listed on CoinMarketCap at this time.
Risk: Very High
Dead Website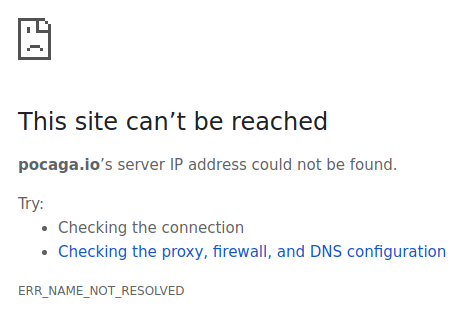 Tweets
Until early 2018 there were still recommendations for the purchase of the Pocaga ICO token on Twitter.
Looking for good #cryptocurrency #ICO ? check out #PCG #Pocaga #PCGICO , a new online currency made for a gambling platform! check it out to make a sweet #investment https://t.co/nc6YXoPZcm

— The Crpyto Keeper (@LeCryptKeeper) February 25, 2018
Dead Telegram Group
The last message posted on the Pocaga Telegram group dates from March 15, 2018.
Failed ICO
According to user reviews and reactions on social media, since late 2018 no more development has taken place in the Pocaga ICO.
To the best of our knowledge the Pocaga ICO should be seen as a defunct project.
Retweeted https://t.co/FsNJVEckdX (@dead_coins):

Pocaga #PGC Online casino promised big returns after ICO…now the site doesn't exist, Telegram channel filled with angry investors #DeadCoins #Scam #ICO #DeadCoin #Pocaga https://t.co/oaTcsMiKdy

— Carlos R. Ferreira (@carlosrof) July 3, 2018
Links